The Smoking Hot Dividend series is all about companies involved in one very lucrative product – tobacco. One by one, we'll be taking a closer look at big tobacco firms that are rolling in cash despite the social anxiety about smoking and the ever-increasing regulatory pressure.
Finding a great dividend stock is never easy for dividend investors. It's even harder for dividend growth investors. However, the tobacco industry seems to have the right economic mix to offer plenty of opportunities to income seeking dividend growth investors.
Last week, we tackled Altria. This week we go even bigger. Perhaps even to the biggest – British American Tobacco or BAT. This 100-year old firm is sharply focused on tobacco and tobacco-related products. With global operations that span 200 country, brands that are instantly recognizable even by non-smokers, and shares that trade in three different continent and on four different stock exchanges. BAT is the biggest of the big tobacco firms. Here's a closer look at this multi-billion dollar smoking juggernaut.
About British American Tobacco (BTI)
British American Tobacco is not just big, it's the biggest. It is, no doubt, the largest publicly traded tobacco company in the world. The brands they create and market are smoked by one in every eight people who smoke regularly.
Last year alone, the company manufactured 665 billion cigarettes in little more than 44 factories.  The company manages an army of tobacco technicians that number in the thousands. These technicians work with the thousands of farmers and third-party contractors to source all the tobacco leaves needed to fill demand. Almost all countries have a local manufacturing plant where the tobacco is cut, dried and rolled. Packaged cigarette cartons are then shipped out to every corner of the world.
Altogether, BAT employs close to 55,000 people either directly or indirectly through its supply chain. Over the years, the company has created quite a reputation ads a good employer and a shareholder-focused company. It's been recognized as the Top Employer in Europe by the Top Employers Institute for seven consecutive years. Also, the Institute of Directors awarded the company rank  number one in a good governance index.
BTI is a lean and efficient profit making machine listed on several public markets across the world. Primary shares are listed on the London Stock Exchange, but the company also has American Depository Receipts (ADR) that have been included on the Dow Jones Industrial Average since 2002. It was the first tobacco company to make it to the index at the time.  
BTI is now worth $145 billion and earned $19.33 billion in revenues last year.
Businesses Overview
Although there have been attempts to diversify the business, BAT is still a primarily tobacco-focused company. In 2016, the company made nearly $19.33 billion in revenue. All of which came from tobacco or tobacco-related products. The company has a portfolio of over 200 different cigarette and cigar brands. But the portfolio is highly concentrated. In fact, 40% of revenue is generated by only a handful of brands – known as the Global Drive Brands.
Global Drive Brands
The Global Drive Brands are the core of BAT's operations worldwide. Five brands dominate the portfolio and helped the company generate more than $8 billion in revenue last year. These brands make up more than half of the volume at the firm's manufacturing plants. Nearly 346 billion cigarettes were manufactured last year under one of the five brands in this core group. That's up 7.2% from last year.
You can't understand BAT's global operations and market position without understanding these five core brands. Here's a closer look at each of this essential brands.
Dunhill (57 billion)
The most well known brand in the BAt arsenal could be Dunhill. The brand can trace its roots back to Gentleman's Row in London in 1907. Today, it's a massive brand taht spans cigarettes, perfume, and deodorants.  
Kent (66 billion)
Kent is seen as the more modern brand in the portfolio. The company acquired the brand in the 1950's and it's now one of their most popular products.
Lucky Strike (36 billion)

Lucky Strike often features in pop culture. You'll hear references to it in Hollywood movies and period pieces on HBO. It's an amazingly resilient American brand that's been around since the late nineteenth century.
Pall Mall (92 billion)
Pall Mall has been around for 115 years. Over this time it's only grown more popular. It is now the third most popular cigarette brand in the world.
Rothmans (73 billion)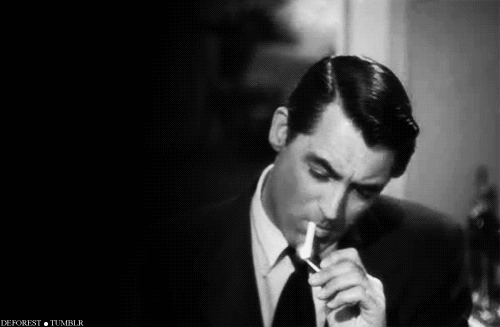 A british brand that dates back to the late 1890's. You're more likely to see the premium brand logo on a racing sportscar than on the streets since it's popular in Europe and Malaysia.
These five core brands round off the vast and strong portfolio under BAT. The company now focuses primarily on sourcing tobacco leaves from a network of 100,000 farmers across the world. These leaves are used to create cigarettes in one of 42 different factories. Finally, the distribution and marketing is all vertically integrated.
Over the years, through mergers, acquisitions, and partnerships, the company has built itself into a dividend growth investor's dream. The cash flows are consistent. There is strong brand loyalty for their product. And management is about as shareholder focused as they get.
Financials
BAT is firmly in the top quartile of fast moving consumer goods companies (which include Coca Cola, Diageo, and Pernod Ricard.
As expected from a massive tobacco company, British American Tobacco has performed spectacularly over the past few decades. Despite the rising regulations and a shift in the way people think of smoking, this tobacco giant has gone from strength to strength. Between 2014 and the end of 2016, the company created a total shareholder return of 16.4% annually compounded.
The profits were nearly $5.2 billion and the company generated $3 billion in cash last year. Operating profit margin is a sizable 37.2%.
Dividend growth investors may be happy to know the company's dividend was up 10% from last year. The dividend stock currently yields 3.41%, which may not be high for a European stock but is surely higher than the dividend yield on the S&P 500.
The management firmly believes it can keep increasing sales, profits, and dividends for the foreseeable future.
Valuation
Perhaps because of its size or maybe because it's focus on tobacco exclusively, the company gets a lower Price-to-Earnings ratio than other stocks in the same industry. For example, BTI has consistently trade at a lower PE than its closest competitor Philip Morris International. Here's a look at how their stocks have shaped up over the past few years: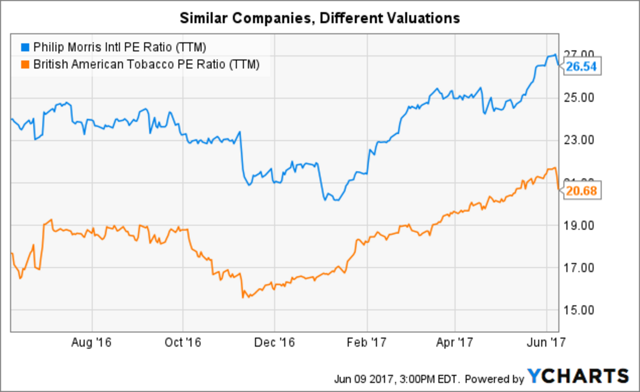 Although dividends have grown rather nicely over the past few years and are likely to keep doing so over the next few years too, the yield is lower than other tobacco firms. The yield hovers around 3%, while other stocks like Altria and Philip Morris offer 3.8% and 3.6% respectively.

Another concern for BTI is the British Pound, which has been pounded (pun intended) over the past year. As Britain grapples with Brexit, the reported earnings for UK-based BTI could be lower and raw material costs could rise substantially.
Overall, the company offers reasonable income at a reasonable price. But it's a stock meant for dividend income seekers over dividend growth investors, Tobacco is great for income, but BAT simply doesn't offer a revolutionary growth opportunity.
Final Thoughts
British American Tobacco is the world's biggest tobacco company. As such, it's a lucrative firm with operations spread far and wide. It's been a consistent dividend-paying stock throughout its history. Despite the pressure on the tobacco industry, firms continue to rake in cash at record rates every year.
BAT expects to exp[and sales in emerging markets and acquire new companies and innovative products to keep the growth streak going. This should benefit dividend growth investors over the long term.