Most investors aren't trying to get really wealth with their investments. Instead, they're trying to create a source of income that covers a little more than their expenses. In other words, they're trying to turn the tables and stop working for money so that money works for them. Money invested in the right places can create this magical paycheck that allows a savvy investor to live the life they always dreamed of. It's the definition of financial freedom.
On this blog, we're firm believers in the power of equity. Stocks and ownership of a business can create the sort of yield you can't expect elsewhere. Businesses can compound wealth and keep raising dividends exponentially. There's no limit to how fast or how big they can grow. Which is why a well-balanced portfolio of dividend stocks is your ticket to financial freedom.
Creating a dividend portfolio that's large enough and pays enough in dividends to cover expenses is relatively complicated and time consuming. You must analyze each company and monitor their financials closely. Keep an eye on the dividend yield and sustainability to avoid a sudden cut. Balance between domestic and foreign stocks to gain from the benefits of diversification. And finally, value a stock appropriately and buy when the price is attractively low enough.
All that takes years of experience to perfect. Yet, some investors struggle with more basic issues such as the timing of cash flows. Creating a healthy dividend yield is great. But it's better to have that dividend yield align with your monthly expenses. You probably pay bills, employees, rent, and buy bulk groceries once a month. So, shouldn't your dividends match up?
People who rely on their dividends to live probably appreciate payments that align with their monthly commitments. Some companies realize this and offer convenient payment schedules for their dividends. These top rated monthly dividend stocks are a great addition to everyone's portfolio.
Here's a closer look at one such top rated monthly dividend stock – AGNC Corp.
About AGNC
Maryland-based American Capital Corp or AGNC is a private equity player with decades of experience in complex Wall Street financial instruments. One, in particular, should sound familiar to anyone paying attention during the financial crisis – mortgage backed securities or MBS.
Specifically, agency MBS which is backed by the government. These agency MBS are issued and guaranteed by government agencies or government sponsored enterprises (GSEs) such as The Federal National Mortgage Association, known as Fannie Mae, and the Federal Home Loan Mortgage Corporation, known as Freddie Mac. AGNC also deals with MBS issued by The Government National Mortgage Association, or Ginnie Mae.
Business Model
AGNC is basically a real estate investment trust (REIT). Which means it can earn substantial income from property-oriented investments and pass on most of the income to shareholders in the form of dividends. Unlike most REITs however, AGNC doesn't own and manage properties. It doesn't even own and manage individual mortgages. Instead it invests and holds onto derivative instruments called mortgage backed securities or MBS.  
MBS is a basket of mortgages, all of which have similar characteristics. Instead of owning one mortgage, a collection of different mortgages is meant to reduce the risk of investing. The business model for AGNC is based on these government-backed investments that offer a higher yield than most other income-oriented securities.
These investments are leveraged, which means the company borrows money to make them. The yield is higher than average because of the leverage involved. AGNC says their primary objective is to create a substantial return for their shareholders through investments. There are two ways this company creates this return – net asset value appreciation and regular monthly dividend income.
In other words, AGNC is designed to be a top rated monthly dividend stock. The REIT structure allows it to avoid taxes while passing on this efficient income to shareholders. The company aims for net returns that are risk-adjusted to justify the leverage and choice of securities for investment.
Financials
AGNC manages over $59 billion in assets, most of which is invested in MBS. The vast majority of the assets are invested in MBS. A significant portion (72%) of these MBS are backed by long-term mortgage which are usually fixed for more than thirty years. The rest is invested in shorter dated mortgages that are usually termed for 15 years or less.
The company has had an incredible run since it was launched in 2008, at the height of the financial crisis. However, rising interest rates over the past few years have had an impact on the company's bottom line. Last year was particularly bad. Net income fell by 18% in 2016 and net book value was down by 6.3%.
The problem with AGNC is the sensitivity of its book to the yield curve. In other words, a minor change in interest rates has a noticeable and tangible impact on the MBS the company holds. That's why the sock has been plunging since the Taper Tantrum of this past year.
The only way to handle this is bolster the hedges against interest rates. AGNC seems to be doing this as the hedge portfolio expands. This should provide some protection against a sudden shift in interest rates. Hopefully, this makes the net asset book more stable.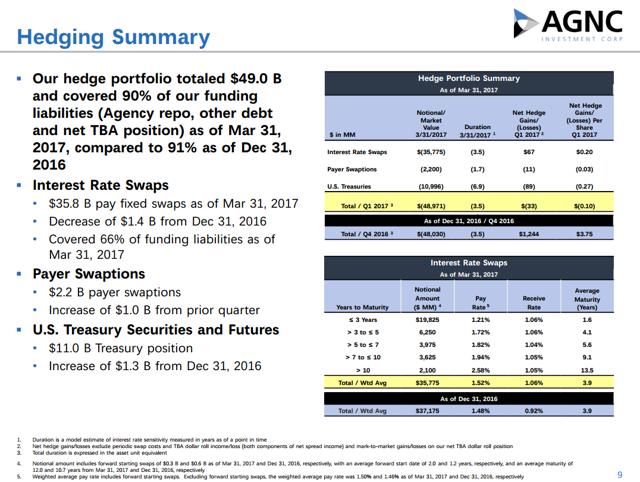 Dividend
Perhaps the most impressive thing about this stock is the dividend. AGNC is a top rated monthly dividend stock with great management. It has a track record of some pretty consistent dividends.
At this point, the dividend is $0.18, which is a dividend yield of 10.2% on the current stock price of $21.41. Part of the reason the dividend yield is so high is the sudden collapse in the stock price.
There was an intense sell off in the stock after the first quarter results in 2016 were announced. That's because investors in AGNC use the net interest spread as an indication of dividend sustainability. The net interest spread shortened over the past year. Meanwhile, leverage increased and the duration declined. All signs of a serious threat to the dividend's sustainability. The fact that AGNC doesn't offer a dividend guidance compounds the worry for investors.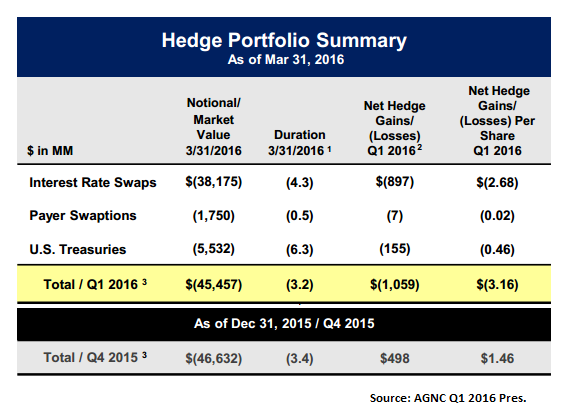 Valuation
Dividend sustainability isn't the only issue. The structure of the business means valuations are more complex. You can't simply use a PE ratio of dividend discount method to a mREIT with derivatives like AGNC.
The easiest way to value the company is based on book value. Professional investors would prefer buying the stock when it is trading below net book value.
By July 31st in 2017, the net book value per share was $19.39. In case you're wondering the $0.18 dividend has been deducted from this estimate. So at the current price, the stock trades at a 10% or so premium. Unacceptable for a mREIT like this.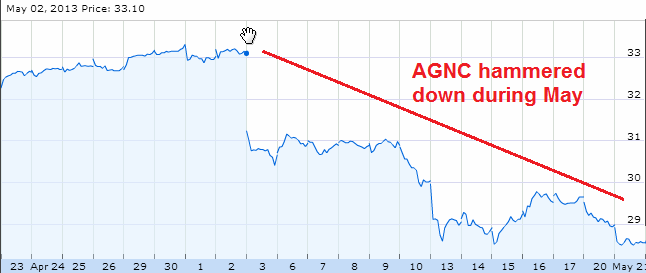 Final Thoughts
There's no doubt AGNC is a top rated monthly dividend stock. It's a real estate investment trust with a twist. Instead of buying up properties and managing them, they invest in baskets of mortgages called MBS.
These MBS are backed by government sponsored enterprises, so in theory they are extremely safe. However, anyone who's lived through the Financial Crisis of 2008-09 knows these instruments can be dangerous and can spiral out of control relatively soon.
It's not just that AGNC invests in risky assets with long duration. The book value of these assets is rather sensitive to the interest rates. Sudden shifts in the Fed rate can have a direct impact on the book value. The stock has declined in the past when interest rates have been raised. That's probably the reason the dividend yield is at a relatively high 10% right now.

The company tries to hedge its risk, but leverage has been climbing and duration has been declining in the most recent quarters. Investors are genuinely worried about how sustainable the dividend could be. Meanwhile, the stock trades at a hefty premium to its net book value.
All these metrics indicate regular income seeking investors should look elsewhere for top rated monthly dividend stocks. Annaly Capital Management, Inc. (NYSE:NLY) and Chimera Investment Corporation (NYSE:CIM) may be a good bet. AGNC's preffered stock, if you can get a hold of it, may also be a better bed.