We've talked about REITs before. How they're special trusts set up with one purpose in mind – generating regular income for investors. The trust owns and manages the properties, collects rents, and pays out almost all the income in the form of dividends. It's a tried and tested business model that truly works if done correctly.
Well, it's now time to take a closer look at a company that sets the standard for the whole industry. A company that's been around since the dawn of REITs and has managed a phenomenal track record of growing dividends ever since. A company that takes its status as a dividend generator so seriously it even registered the trademark 'The Monthly Dividend Company'.
Anyone who's ever considered buying a REIT has come across this name before. For the uninitiated income seeking investor, Realty Income Co. comes as a pleasant surprise. Here's a closer look at this dividend generating, realty gobbling machine:
About O
Realty Income (NYSE: O) is a company focused on one thing – monthly dividends. It started off as a small private firm that owned a single Taco Bell outlet. The company was set up in 1969 by husband and wife team William and Evelyn J Clark.
The Clarks were experienced real estate veterans by the time they had registered their small company. Both had extensive experience buying plots, constructing mostly commercial properties and then either leasing or selling the properties to shops and retail outlets that needed a physical presence. The strategy they had, which was later perfected, involved creating new properties that could be occupied by seriously indispensable businesses that every community needed. This ensured that the tenants would always be profitable and pay their rents.
The model was a success and by 1992 the Clarks had a sizable business owning, developing, and leasing out properties across the country. They had racked up 22 different partnerships with 68,000 partners who jointly controlled a property portfolio of over 628 properties. When the firm's structure got too unwieldy, they decided to consolidate all the different properties into one mega corporation that could be listed on the stock market. When the company went public on the New York Stock Exchange in 1994, the Clarks picked a simple and memorable ticker – O.
To this day, the o dividend is sacred for income seeking investors who rely on their portfolio to meet monthly expenses. It's a company and trust built from the ground up to service people who live off the income from their investments.
Business Model
Interest rates, location, sectors, and guards against recessions all play a role in the business model that generates the o dividend. You see, for the REIT model to work you need several things to line up perfectly. You need low interest rates so you can borrow substantial amounts to add properties to the portfolio. Once there, you need to fill up occupancy so that none of the properties are lying vacant and losing money. You need tenants that are not only profitable and committed for the long term, but also operate in sectors that can withstand a sudden recession.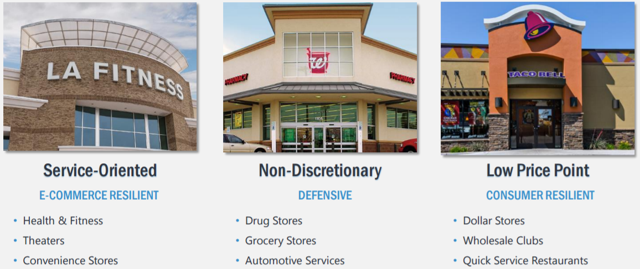 Bringing all these simple but vital factors together is what makes the o dividend work.
Realty income focuses on non-discretionary businesses which means the demand for their products and services never evaporate when money is tight. Walgreens, Circle K, general stores, and car washes are all necessary. Part of the portfolio is also made up of properties that businesses rely on for their survival. Fitness centers, theaters, and restaurants are part of this group of businesses that would not survive without an actual physical location. These are the kind of businesses that will never disappear because of e commerce or technical innovations.
Lastly, Realty Co believes in low-cost general stores that are recession-proof. In fact, low-price general stores actually benefit from a recession as families cut back on regular expenses.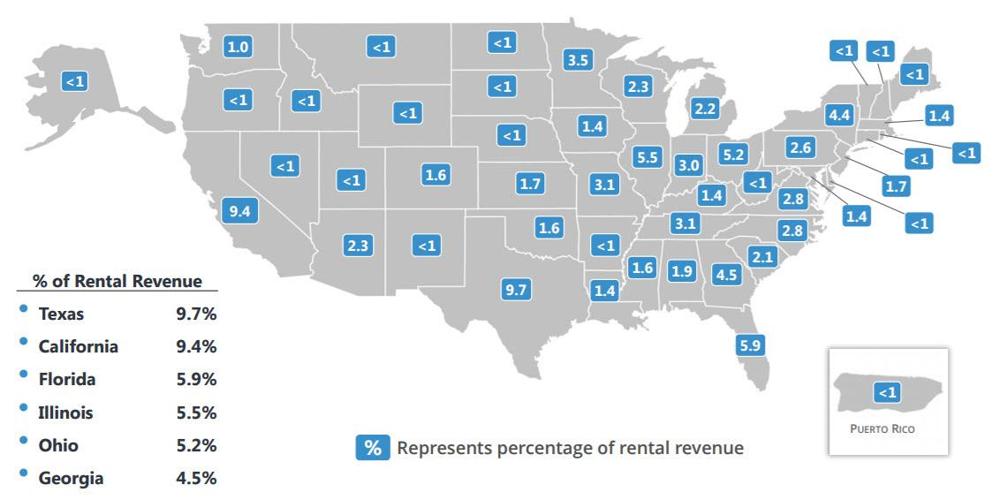 Two separate departments within Realty Income Co.  pick locations that are favorable for these business models and analyze the tenant's prospects for running a successful business. Coupled with an investment-grade borrowing status, expert management, adequate diversification, and meticulous reinvestment, this is the perfect business model for this industry.
Finances
Over the course of 2016, Realty Income Co. earned little over $1 billion in revenue and $735 in adjusted funds from operations. The trust, like all other REITs, paid out nearly all its cash in dividends. The $2.4 paid in dividend was close to 4.5% yield in 2016.
The o dividend originates from incomes generated in nearly 5,000 different properties spread across 49 states. There are also some properties in Puerto Rico. On the basis of historical cost (what the company paid for them initially) the real estate assets are worth $14.5 billion. There are 250 commercial tenants from 47 different industries across the property portfolio.
The company has performed phenomenally well over the past four decades. Combined with the stock price, the total return on o dividend stock has been 16.9% compounded annually. That compares to 10.9% and  9.6% for the Equity REIT Index and the S&P 500 respectively.  
Since the REIT was listed on the stock exchange, it has paid out a dividend every single month. The o dividend has also been increased 92 times over that same period. After 79 consecutive quarters of dividend growth, the average annual growth rate in dividends works out to 4.7% approximately.
That's a stellar track record for any company. But is the stock worth buying now?
Valuation
Despite the stellar performance and expert management, the o dividend could be overpriced and not worth a buy right now. While most companies can be measured with the dividend discount method, REIT firms needs a different sort of valuation.
Multiples like P/FFO suggest better valuation for REITs.
In the case of Realty Income Co, the forward P/FFO multiple is 19.99, while the industry average is closer to 17. Somewhere close to 17 is also the historical P/FFO multiple this REIT has traded at.
Perhaps it's worth paying the price for such a high quality stock. For the o dividend paying stock to be within a reasonable range, the stock would have to come down to $48 or $50. That would make the stock nearly 18% overvalued right now.
There are risks to consider as well. The United States Federal Bank has already pushed key interest rates up and plans on pushing on them higher over the next few years. Higher interest rates will make it tougher for Realty Income Co. to keep borrowing money to fund property investments. It will also squeeze profit margins. Also, as risk-free interest rates on safe investments rise, options like stocks and REITs start to look less attractive.
The company is also not entirely immune to a recession. If a big tenant files for bankruptcy its portfolio could lose significant earning power.  
Final Thoughts
Realty Income Co. has made a name for itself in the real estate investment industry. It is, no doubt, a fantastic company. The management is efficient and shareholder-oriented. Monthly income is such a solid aim that it's the company's registered tagline.
Over the past forty years, the company has managed to stay consistent with the dividend. It has also managed to grow. Year after year, month after month, the company keeps up its promise of generating tangible wealth for investors.
It's a great investment, if you can snatch it at the right price. Considering the current share price the o dividend may be just beyond a pragmatic investor's reach. But any catalyst that can push the stock price down by a few dollars. That could be sufficient for income hungry investors to add this to their monthly income portfolios.