There's probably no better way to live off dividends than to create a portfolio filled with monthly dividend stocks. Not only do these stocks pay you for investing and holding them, but they also arrange the payments in a way that mimics a regular paycheck. Holding a few quality monthly dividend stocks is like creating your own automated income machine.
However, monthly dividend payments are rare. Most companies prefer paying out dividends on an annual or quarterly basis. These are the two most popular payment schedules. Unfortunately, they don't suit investors who rely on these dividends to meet monthly expenses. So, here's a list of all the stocks that pay a monthly dividend.  
Do you know why monthly dividends matter?
The answer is simple: monthly compounding outperforms quarterly compounding over time by a lot! The more frequently an investment compounds, the faster it will grow. So over the long run, stocks that pay monthly dividends will generate extra returns for you.
There is one other component of monthly paying dividend stocks which many people really like is the fact that you can create a reliable monthly income – rather than quarterly. Because most of us are used to living on a monthly income stream for our working lives, it makes a lot of sense that it feels good and natural to also have a monthly income stream in our retirement.
35 Great Monthly Dividend Stocks:
This is a REIT focused on agency mortgage-backed securities ("agency MBS"). That means the company focuses on leveraging its real estate investments to gain higher returns on investment. The firm has managed to create value for investors by suppressing operating costs (0.9% of equity) and boosting its market cap to over $5 billion since its IPO in 2008.
2. Apple Hospitality REIT (APLE)
Apple Hospitality is all about upscale hotels and popular brands. Marriott and Hilton feature prominently on their portfolio. The REIT operates nearly 235 hotels spread across the country. As an REIT, it has been paying a fairly consistent monthly dividend for the past 15 years.
3. Capitala Finance Corporation (CPTA)
Capitala is a business investment management company. It's similar to a REIT, expect for the fact that it invests in the equity of medium sized companies and not property. The company was started in 1998 and since then it has raised fresh funds on eight separate occasions. They've made nearly 135 investments, deploying $1.3 billion till date. Based on the current monthly dividend and stock price, the dividend yield is an astounding 11.6%.
4. Chatham Lodging (CLDT)
Chatham Lodgings is very similar to Apple Hospitality. Both companies invest in properties and then lease them out to high-end luxury hotel chains. Chatham has a long history of consistent monthly dividend payments. The stock currently yields 6.67% and pays out $0.11 every month to investors. Hilton and Marriott, of course, feature heavily in the portfolio, alongside other popular luxury hotel brands.
5. Corus Entertainment (CJREF)
Corus is probably the first standalone business on this list. JR Shaw, the founder of Shaw Communications, started the company from leftover media assets under his name.
The company owns and makes money on content that is sold to nearly 130 countries. It also owns and operates 45 specialty television channels, 15 conventional television stations, and 39 popular radio stations. The reason you've probably never heard of this media giant is because it's listed in Toronto, Canada.
6. Cross Timbers Royalty Trust (CRT)
A company that collects royalties on several energy properties across the country is designed for income-seeking investors. Born in 1991, this trust now has 2900 properties across  Texas, Oklahoma and New Mexico. These properties have oil underneath and the trust collects a major chunk of the profits from drilling and selling the oil. The dividend yield is 8.7%.
7. Dream Global REIT (DRG.UN.TO)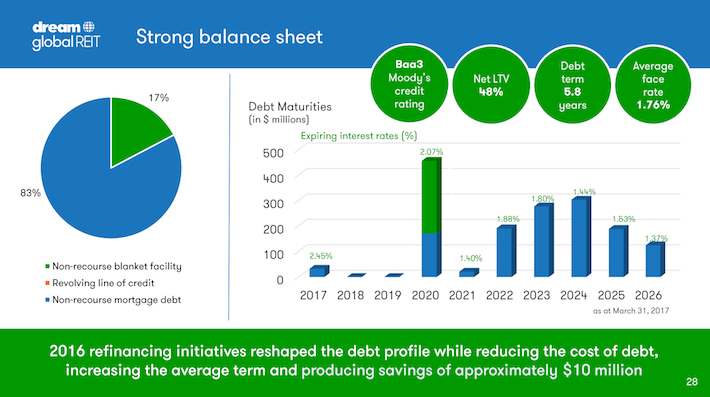 Canada's Dream Co. is a dream conglomerate. It's one of the largest multinationals in the company and it operates a diverse group of businesses ranging from home developers to renewable energy operators. Dream Global is their international REIT with investments in properties spread across the world.
8. Dream Industrial REIT (DIR.UN.TO)
Another one of Dream Co.'s companies, Dream Industrial is focused on industrial properties spread across Canada.
9. Dream Office REIT (D.UN.TO)
As the name suggests, this is a Dream Co. REIT focused on office spaces in Canada.
10. EPR Properties (EPR)
With over $6.2 billion in property investments, EPR Properties could be the most uniquely positioned REIT in North America.
The company focuses exclusively on specialized properties needed in recreational, entertainment, or education industries.
11. Enerplus (ERF)
Enerplus is part of the energy industry. ERF develops, operates and manages assets that generate crude oil or natural gas.
Currently, the annualized yield is low. Just 1.1%. But the company has a history of paying consistent monthly dividends on the 15th since 1986. If you're looking for consistency and a bet on the energy market, this is it.
12. Gladstone Investment Corporation (GAIN)
Gladstone Investments is part of a family of investment management companies. This one is a business development company that specializes in middle market buyouts.
Basically, the company buys and manages companies with revenues ranging from $20 million to $100 million and uses the profits to pay a monthly dividend to patient investors.
13. Gladstone Capital Corporation (GLAD)
Another one of the Gladstone companies, this one is more of a private equity firm. The company offers revolving loans and buys out a minority stake in companies.
14. Gladstone Commercial Corporation (GOOD)
Gladstone is an equity REIT focused on commercial real estate spread across North America.
15. Global Net Lease (GNL)
A truly international REIT, Global Net Lease owns property in France, the UK, Germany, the Netherlands, and the US. Their aims is to provide a monthly dividend to investors by picking up assets that have low volatility and high growth potential. The property portfolio is exclusively commercial properties.
16. Granite Real Estate Investment Trust (GRP)
Another Canadian REIT, Granite owns 92 properties and manages a combined portfolio of 30 million square feet.
17. Harvest Capital Credit Corporation (HCAP)
HCAP is a business development company that focuses on companies earning between $10 million to $100 million in revenue each year. The dividend yield is an astounding 9.7%.
18. Horizon Technology Finance (HRZN)
Connecticut-based HRZN offers debt products to technology and life science companies. Over the years, the company and its various partners have discovered more than 200 unique investment opportunities and deployed close to $5 billion in capital.
The company usually provides cash up to $25 million and expects a payback within 48 months. I think this could be a great monthly dividend stock for those looking to build a long term portfolio of passive income you can retire on.
19. Hugoton Royalty Trust (HGT)
Created in 1998, HGT collects royalties from gas producing properties in Kansas, Oklahoma and Wyoming.
20. Inter Pipeline (IPL.TO)
What's better than drilling and selling oil? Providing transport for the industry. Calgary, Canada-based Inter Pipeline is probably of of the biggest providers of petroleum storage and transport services in North America.
21. LTC Properties (LTC)
LTC provides housing for seniors. The company owns and operates nursing homes and healthcare units across the country. There are nearly 105 assisted living centers and 98 skilled nursing centers in the portfolio.   Since 1992, the company has returned a total of 203.8% to shareholders.
22. Main Street Capital (MAIN)
Main Street helps companies find their way to the next stage of growth with added funding. Based in Houston, Texas, MAIN is a corporate finance company that hands out loans and financing options for businesses Over the years, they have helped more than 200 private companies grow and expand their network of clients.
23. Orchid Island Capital (ORC)
Orchid is a specialty finance company that invests in a very particular type of asset – residential mortgage backed securities or RMBS. If that term sounds familiar, it's because these securities were the reason for the 2008 financial crisis. The market has since recovered and ORC is still holding strong.
24. Realty Income (O)
We've mentioned Realty Income before. In fact, we've even done a whole article on this lovely monthly dividend engine. Check it out here to learn more about the
25. O dividend.Pembina Pipeline (PBA)
Pembina Pipeline is another Canadian firm providing services to the oil industry. The company offers processing facilities, storage systems, transport services, and a monthly dividend to investors.
26. Prospect Capital Corporation (PSEC)
Yet another Business Development Company ("BDC"), Prospect is a dividend creation engine. Over the years it has paid out close to $2.3 billion in dividends and has funded more than 300 businesses.
27. Sabine Royalty Trust (SBR)
SBR is an express trust. It's been around since the 1980's and now owns oil and gas assets in  Florida, Louisiana, Mississippi, New Mexico, Oklahoma and Texas (the Royalty Properties).
28. Shaw Communications (SJR)
The rare standalone company on this list is a Canadian telecommunications giant. Shaw provides fiber-optic cables, high-speed internet, TV, phones, mobile, and online entertainment across Canada.
29. San Juan Basin Royalty Trust (SJT)
Trading at 15x earnings, combined with a yield of 10.7%, this is a worthy monthly dividend investment.
30. Stag Industrial (STAG)
STAG focuses on single-tenant, industrial properties. It's a hyper-focused REIT that's managed to amass a vast property portfolio in America and create substantial money for investors. Since its IPO in 2011, the dividend yield has been consistently above 5% and the toal return has been 185%.
31. Stellus Capital Investment Corporation (SCM)
SCM is yet another middle market investment company. The company gives out loans to businesses earning somewhere between $5 million and $50 million in revenue. Sometimes they invest in the company's equity.
32. Student Transportation (STB)
Founder Dennis Gallagher started this small student transportation company from his home twenty years ago. Now this publicly listed student transport giant employs 15,000 people and is present in 175 locations across North America. The large company now also operates buses and transport services for corporate clients and events.
33. Solar Senior Capital (SUNS)
SUNS is a business development company with a laser focus on yield. It provides financing to middle market companies in a variety of industries. This year, the company paid $0.1175 per share in monthly dividends. That's a yield of 8.2% overall.
34. Vermilion Energy (VET)
Vermilion is an energy company. It acquires, develops, and manages oil resources. Branches are spread across North America, Europe, and Australia. The firm is always on the lookout for energy assets it can add to its vast portfolio. Over the years, the company has managed to pay out a monthly dividend and a yield of close to 5%.  
35. Whitestone REIT (WSR)
Houston, Texas-based Whitestone REIT is focused on convenience stores and  cultural centers in affluent neighborhoods. The company tries to acquire properties that are indispensable in locations where the average salary crosses $75,000. BLVD Place in Uptown Houston, and Eldorado Plaza in McKinney, Texas, are just a few examples of the popular commercial centers this company owns. The REIT offers a monthly dividend. Over the years, the company has delivered compound annual growth rates of 38%, 23%, 25% and 32% in net income, revenue, NOI, and FFO Core, respectively.
Final Thoughts on Monthly Dividend Stocks
All 35 of the companies mentioned here pay out dividends every month. That doesn't necessarily mean they are great dividend stocks. It just means their schedule is well suited to investors who rely on their dividend income to meet household expenses.
You may have noticed that many of the stocks on this list are listed in Canada. That's because investors in America have easy access to these prized assets across the northern border. The Toronto stock market is never as inflated as the ones in New York, so there's a chance investors might find better value there.
Also, most of the monthly dividend payers on this list are real estate investment trusts or express trusts. These companies have simple business models and more predictable cash flows. It's simply easier for a BDU or REIT to promise a monthly dividend than a regular stock.
If you're an income seeking investor who prefers a monthly payout, look across the list here and seek out gems based on your research and their fundamental value.