If there's any institution that's purely focused on money, it's a bank. America is home to some of the most well known and well run banks in the world. JP Morgan, Wells Fargo, Citibank, Bank of America, are just some of the names that absolutely everyone on the planet has heard of.
Unfortunately, banking isn't what it used to be. After the financial meltdown of 2008, nearly everyone views these giant corporations with disdain. "Banker" is now nearly synonymous with "Gangster". Big banks are seen less as financial caretakers and more as money sucking parasites that want to shrivel the global economy for their own profit.
Banking stocks, meanwhile, have been outright tocis over the past few years. There's so much of uncertainty and risk in the financial system that most people would rather see their money burn then put it into a bank stock.
Nevertheless, banking is now as essential as it ever was. The global financial system relies on it and absolutely no industry would function smoothly if the sector were weak today. Love 'em or hate 'em, banks are crucial. \
I want to take a closer look at this fascinating industry, dispel some myths, and try to see if investors are overlooking the value this sector still has to offer. I'll discuss what banks do, why they're important, why they played a role in bankrupting the economy a decade ago and why you should probably put your hard-earned cash into their equity today.
Understanding Banking
Banking, at its core, is really simple. Banks are intermediaries between borrowers and lenders. They borrow money at a certain interest rate and lend it out at a higher rate, capturing the difference to create a profit.
When you deposit money in a bank you are, in effect, lending to them. The bank takes that money and gives it people who want to buy homes or start businesses. Bank probably pays you 1.5% and earns 4.5% in interest. When you consider the vast sums of money banks work with, you can see why this business is so lucrative.
Last year, the three top banks in America generated $65 billion in profit. That's more than the market values of some of the largest European banks. Combined, all the commercial banks in America has an estimated $13 Trillion in assets.
These are gargantuan sums of money. Which is why even a few percentage points can make a huge difference. That size has always made banks extremely powerful, but it also makes them dangerous.
Too Big To Fail
Banks have been too big to fail since the modern financial system was first developed. Holding all the cash from an economy and lending it out to big players is inherently risky. You know investors often say you should stay away from companies with too much debt? Well, a bank is a business built on debt. The whole institution is actually just a huge pile of borrowed money.
Credit, however, is integral to the modern capitalist system. Companies, governments, and people simply won't be able to function without these banks. This systemic importance may have pushed banks to take greater risks to get even bigger. Banks started focusing less on the mundane borrowing and lending and more on the speculating side of finance.
Banks started getting involved in trading and investing in complicated financial instruments and derivatives. Warrants, stocks, bonds, credit default swaps, currency futures, swaptions, and asset backed securities are just some of the deadly and sexy sounding financial marvels these banks started trading with.
Why do it? Simple, because they can't fail. If you run one of the biggest banks in the world and you know the government may have to step in and bail your bank out if some trades go haywire, you would take disproportionate risks to create more profits.
Weapons of Mass Destruction
The problem is, banks adding risks creates more risk in the global economy. Which is why Warren Buffett once called these instruments financial weapons of mass destruction.
There have been two major crashes because of banks taking too much risk. Once was in 1929 and the other was in 2008. Both had devastating effects and resulted in more regulations. The Glass-Steagall Act was passed after the 30's crash and the Dodd-Frank Act was passed in 2010. These regulations make it more difficult for banks to take stupid risks and jeopardize the whole economy.
For the most part, banks in the US have recovered from the financial crisis. Their balance sheets are now healthier than ever before and they are slowly regaining their reputation. Which is why it may be a great time to look for investment opportunities in this sector.  
The Best Banks
Some of the best banks have minimal risk in their books and maximum efficiency. Los Angeles-based PacWest Bancorp, the holding company for Pacific Western Bank, was voted the best bank of 2017. The bank manages to create 5.4% net interest margin, a 1.6% return, and has over $21 billion in assets.
Ontario, Calif.-based CVB Financial was a close second to PacWest. This bank is a dividend machine and has managed to pay dividends for 109 quarters and make a profit for 158.
Other great performers included JP Morgan, Citibank, and Wells Fargo. JP Morgan and Wells Fargo are also considerable good bank dividend payers. These stocks yield 2.6% and 2.1% respectively.  Bank dividends, in general, are near all time highs. This should make them particularly attractive to income seeking investors. The fact that banks are getting beaten down should also be good for contrarian investors.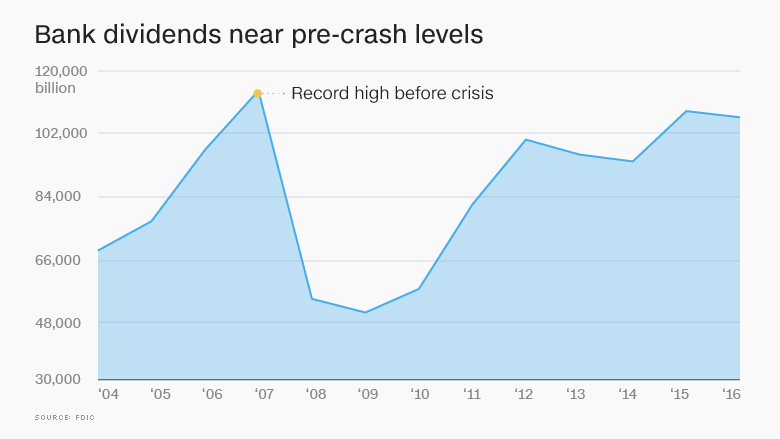 Meanwhile, the worst bank was Bank of America. BoA was voted down based on capital risk ratios and profitability.
Each year, the United States Federal Reserve Bank reviews these banks. These annual tests are called stress tests for bank assets. They are meant to show how banks could cope with a severe downturn or added risk in the economy. This year, most banks passed with great results. The banking industry has truly made a turnaround.
Final Thoughts
Banks are interesting businesses, to say the least. These massive financial institutions are deeply intertwined with capitalism. They serve as the piping that makes money go around.
This is a profitable business, if done right. The trouble is banks have a tendency to get too big. They balloon assets and take on more risks because they know governments cannot afford to let them fail. This leads to drawn out booms and painful bursts for everyone in the economy. We've experienced two major financial meltdowns in the past hundred years alone.
Each time, governments step forward with bailout money. In exchange, they put banks under severe scrutiny. New regulations are added that make banking more difficult and complicated.
Since the Dodd-Frank laws were passed in 2010, banks in America have recovered nicely. Many of the toxic assets are gone and profitability is back. This means banks have enough money to splurge on dividends. Bank dividends are at record highs now. For income seeking investors who understand the industry, this could be a great time to pick up some lucrative investments.