Everyone wants financial freedom. What no one knows is that financial freedom comes in different stages. It all depends on the amount of effort of you need to apply to get your bills paid and sleep peacefully at night. If you have enough of money to never have to work again, that's true financial freedom.
That's the sort of financial freedom I think comes easily to people willing to do the work it takes to create a rock solid monthly dividend portfolio. The sort of portfolio we've talked about on this blog a lot. The basket of stocks that pay out a fixed dollar dividend every single month. Investments that help you pay the bills without the need to even lift a finger.
There are, essentially, two factors that determine how financially secure you can feel with a sizable dividend portfolio – yield and safety. You need a large portfolio filled with stocks that offer a high yield. However, you simply cannot compromise on security. Each stock needs to be attached to a company with good prospects and a strong balance sheet.
There is one other factor that dividend investors often ignore – taxes.  Taxes are the silent and unavoidable killer of yield. No matter how high the yield or how great the price appreciation on your stocks, over time the government will take a fair chunk of your wealth. This is done through the mechanism of taxes on capital gains and dividends.
The only way to combat this is through tax free monthly dividend stocks. So, here's a list of the best tax free monthly dividend stocks you can add to your portfolio.   
About the Strategy
Tax free monthly dividend stocks are rare. That's because most company stock, REITs, and ETFs simply have no reason to qualify for tax exemption. There is, however, one type of financial instrument that pays out monthly and qualifies for a waiver from the taxman – municipal bonds.
Municipal bonds are an unsecy sort of investment. They are loans to local municipalities that allows them to provide amenities for their local constituents. For a serious income investor these are the most stable and reliable sources of investment income. Basically, they are fixed income gold.
Municipalities collect taxes from people who live in the area. Although these investments can technically default, they are relatively safe. Because you are effectively loaning money out to the government, the dividends to investors is tax-free. Close ended funds that collect these instruments sell below market value, which boosts the yield even further.  
One way to boost the yield on these investments is to buy them when they are deeply discounted from face value. A deep enough discount could mean the fund will snap back to original value soon. A combination of a high-yield and capital appreciation could allow you to add some tax free monthly dividend stocks to shore up your overall portfolio. You can diversify, reduce risk, and reduce taxes by adding these investments in along with the rest.
So, here are the five tax free monthly dividend stocks trading at deep discounts that are worth considering:
BQH is trading near a serious historical low. The bond fund is currently at the deepest discount it has experienced in five years. That discount is currently nearly 11%. When calculated on a tax equivalent basis, it turns out investors who buy at this price can expect to earn a substantial dividend yield. Depending on the individual investor's federal and state tax brackets, the yield could be as high as 9.65% for some investors. Not bad for a safe fixed income tax free monthly dividend stock.
Another one of BlackRock's muni funds is MYN. It's a close ended fund just like the other one. This one trades at a discount that is somewhat attractive. Historically, it has traded around 6.3% discount to net asset value. Right now, this close ended fund trades at a deeper discount of 8.5%. Again, for most income seeking investors this is a safe and attractive bet. Tax adjusted yield could be as high as 9.5%. Compare that to the US 10-year treasury and you can see why these close ended tax free monthly dividend stocks are attractive.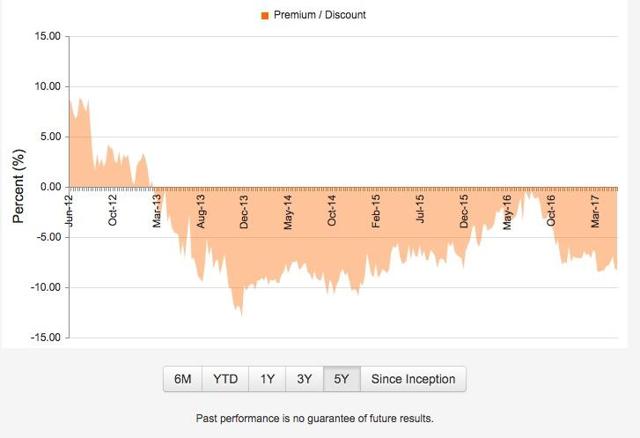 Nuveen is an asset management company that offers Municipal tax-Exempt Bond Funds from fifteen different states across the nation. They offer great management and relatively attractive fees on these funds. NPV is one such fund that's traded on the open market. Over the past five years, this close ended fund has traded at an average of 5% discount to net asset value. Right now it trades at nearly double that discount at 9.03% discount. For an income seeking investor, holding this tax free monthly dividend stock could yield as much as 7.9%. If the price of the fund moves back up to its historic average, you could expect another few percentage points added to that yield.
Similar to the NPV, this is another Nuveen closed ended fund that targets high quality municipal bonds. Over the past five years, this has traded at an average discount to asset value of about 10.7%. Right now it trades at 11.8% discount, which makes it an attractive buy for income seeking investors. Overall, an investor can expect a tax free dividend yield of about 8.9%.
Over most of its history, this fund has traded at a discount of 7.2%. Right now it trades at a discount of more than 10%. That means investors can expect an effective annual yield of about 7.26% tax free. Even more if the price of the fund moves up over time and you sell when the discount is squeezed.
These were just some of the municipal bond funds. These tax free monthly dividend stocks are trading at prices below their average market value, which is why they might be worth considering for income seeking investors.
Although these investments are tax free, they are not risk free. A municipal bond fund may be subject to alternative minimum tax. These funds are also highly sensitive to interest rates. A spike in interest rates across the country will lower the value of these funds. There is also call risk and credit risk with these municipal bonds, which adds a degree of risk to the closed ended funds that hold them.
Other Dividend Tax Considerations
As we've already discussed in a previous post, there are other ways to lower taxes on your dividend income. If you buy a tax free monthly dividend stock and hold it for longer than 61 days, it might be qualified for a special individual tax rate. These qualified dividends are taxed much lower than ordinary dividends.
Taking advantage of this special incentive in the United States tax code allows you to convert dividend income into a type of long term capital gain. This should bring down the overall tax rate on your investment income and boost your effective annual yield.  
Final Thoughts
Income seeking investors need to consider adding some bond funds to augment their portfolio. Company stocks offer attractive yields, but many of them don't pay monthly or qualify for tax exemption.
Municipal bonds are a special type of fixed income security that act as tax free monthly dividend stocks. Municipal bonds, also known as munis, are debt securities issued by local nonprofits and government organizations. Cities, states, and even highway development authorities can issue bonds and borrow money from the public. The dividends on these securities are paid from income from taxes collected on the local level. Meanwhile, the proceeds from the bond sales are used to develop schools, amenities, and local infrastructure.
Ploughing through the local muni market can be complicated for the average income seeking investor. An easier way to invest in these bonds is to buy a closed ended muni bond fund. These funds buy a basket of munis, manage them professionally, and issue dividends that are exempt from taxes. Since the funds are closed ended, they can often trade for prices below their face value. The five closed ended funds mentioned in this post are all trading at historically deep discounts which makes them worth considering. Investors should add some of these funds to augment their portfolios, boost yields, and lower taxes.