Dividend stocks are an interesting hybrid. They offer the best of both worlds – a steady return and capital appreciation. I'll show you the top 20 Warren Buffett's best dividend stocks, and why they are great long term investments. 
Your total returns are likely to beat bonds by a wide margin if you pick some dividends stocks. But the trick is to get high-quality dividends. Dividends that can be sustained and increased over the long term.
Which is where our list of Warren Buffett dividend stocks is likely to help. These are stocks that form part of the legendary investor's portfolio at the moment. The intention is to stand on the shoulders of giants and gain from the knowledge Buffett has amassed over the decades.
(Investors: Do you want to build a long lasting portfolio of safe dividend stocks that produce a passive income? Our Free Dividend Guide contains the top 10 dividend paying stocks for the long term. Download yours now.)
Now, some of you just want a list of all the stocks and their respective dividend yields, so I'll leave that here. But for those who need more details on the individual companies, continue reading below.
Warren Buffett's Best Dividend Stocks
| | | |
| --- | --- | --- |
| Company name | Ticker | Dividend Yield |
| American Express | AXP | 1.9% |
| Apple | AAPL | 2.4% |
| M&T Bank Co. | MTB | 2.4% |
| U.S. Bancorp | USB | 2.5% |
| The Kraft Heinz Co. | KHC | 2.6% |
| Johnson & Johnson | JNJ | 2.6% |
| Kinder Morgan | KMI | 2.7% |
| Wal-Mart | WMT | 2.7% |
| United Parcel Service | UPS | 2.9% |
| General Electric | GE | 2.9% |
| Deere & Co | DE | 3% |
| Coca-Cola | KO | 3.1% |
| Procter & Gamble | PG | 3.1% |
| Wells Fargo & Co. | WFC | 3.2% |
| Suncor Energy | SU | 3.2% |
| Phillips 66 | PSX | 3.4% |
| IBM | IBM | 3.6% |
| Verizon | VZ | 4% |
| Sanofi | SNY | 4.1% |
| General Motors | GM | 5.1% |
Analyzing Warren Buffett Dividend Stocks
It's an open secret that Warren Buffett likes dividend-paying stocks. 9 out of 10 stocks he holds pay a dividend. Over the decades many of these underlying companies have increased their dividends to a remarkable degree. His top four holdings pay an average of 3.1%. That's remarkable, considering the top four holdings make up two-thirds of the entire portfolio.
So, the Oracle of Omaha likes great businesses that pay back a healthy amount of the cash they make every year.
Here's a closer look at each of his holdings.
1. Deere & Company (DE): DE makes farming equipment and the company has a large chunk of the market share in some key agricultural regions in Brazil, Russia, China, Europe and India. Stocks and earnings have been down this year, but the downturn is expected to be temporary. The company pays out about $800 million a year in dividends despite the trouble.
2. Coca-Cola (KO): KO is the most well known Warren Buffett dividend stock. It makes up close to 14.4% of the portfolio at Berkshire and dividends have been rising for 54 years. The company owns 20 different brands that generate close more than $1 billion a year in sales. The company also spends a lot on advertising to keep the brand updated and in the minds of consumers. The marketing spend is more than $3 billion a year.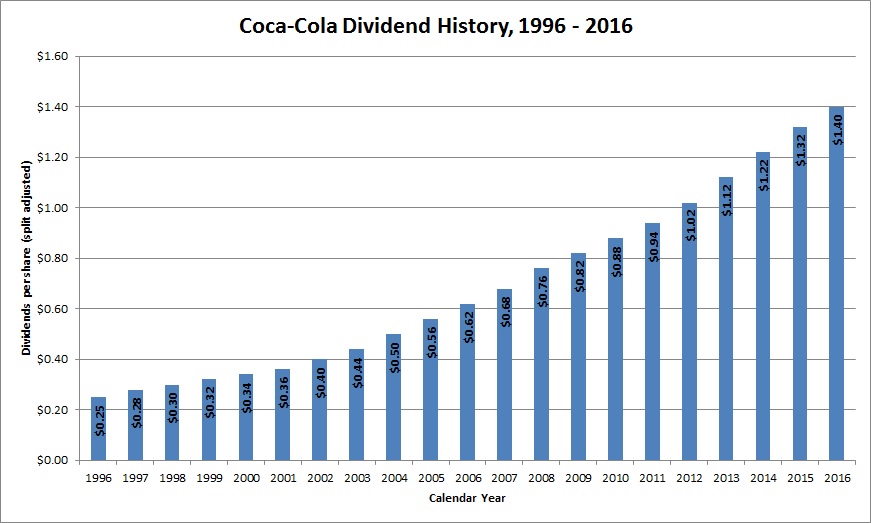 3. Procter & Gamble (PG): Warren Buffett owned a lot of P&G stock till recently. He exchanged most of it for

Duracell stock
, but still has a big chunk of cash in the company. Earning have been growing at P&G by more than 5% a year over the past ten years. The operations are spread out in different industries like oral health care, baby care, fabrics, grooming and home care. This makes it a low risk business with a lot of potential to grow.
4. Wells Fargo & Company (WFC): Currently one of the most prominent Warren Buffett dividend stocks since it makes up close to 18% of the portfolio. It's Berkshire Hathaway's second biggest holding. The reason the company is such a big part of the portfolio is because it is a well-established business with over 100 years of efficient management. It's also one of the rare large companies to pay more than 3% in dividend yields. Book value has compounded at a very respectable rate of 12% a year for the last ten years.
5. Suncor Energy (SU): Based in Canada, this company has had a bad few years because of the drop in oil prices. The stock trades at a PE ratio of 27, which may make it seem expensive, till you dig deeper into the numbers. The cost to produce a barrel of oil is just $28 for the company. That means it continues to make a profit even as oil prices are depressed. There's a good chance the company will keep making profits and paying dividends even if the oil price never recovers. This makes it a great value pick at the moment. This means you can wait for a oil market boom, and get paid with handsome dividends meanwhile.
6. Phillips 66 (PSX): The company has managed to grow its dividends for 37 years. The company handles downstream operations, chemical operations, Retail fuel and midstream natural gas operations. All these businesses perform better when oil prices are low. But irrational investors pushed the stock price down to 11 PE. The company is now focused on expanding the midstream operations and chemical services, as they expect oil prices to remain lower for longer. Management has maintain a dividend yield of over 3% and continues to buyback shares at 5% of outstanding a year. It's a great deal, which is why it's a Warren Buffett dividend stock.  
7. IBM (IBM): One of the rare tech stocks Warren Buffett decided to invest in was IBM. The stock price hasn't done very well over the past few years, but the fundamentals are great. IBM operates in an industry that changes rapidly, but has proven it can withstand the changing dynamics and turn a profit. Earnings have grown 9.2% a year over the past ten years, but revenues have stayed flat over the same period. This means the operations are getting more efficient and margins are improving. The company now wants to focus on the future of tech, which it believes lies in cloud computing, information security, analytics and mobile software. Revenue is growing by an average of 26% in these key areas, which is a very encouraging sign.
8. Verizon (VZ): Verizon yields over 4% in dividends, which makes it the third highest yielding stock in the portfolio. The company is the market leader in wireless communications, as it controls 34% of the market in the United States. Now, management wants to expand to areas such as content distribution and advertising. As consumers use more data on their phones and watch videos or share photos, the revenues keep growing for this wireless carrier. Profit margins are also healthy, considering the lack of competition in the industry.
Source: Verizon Earnings Report
9. Sanofi (SNY): Based in Paris, this pharma company has a portfolio of drugs and products that are well concentrated and highly profitable. Sanofi Genzyme make up 14% of revenues and drugs for Cardiovascular diseases and diabetes contribute to 18%. More than half of all sales for this company comes from emerging markets, which means it is well placed for future growth. Currently, the company buys back 1% of the shares and yields 4% in dividends. A very promising Warren Buffett dividend stock.
10. General Motors (GM): Despite claiming bankruptcy in 2009, GM is now back and still holds 17% of the car and truck market in the United States. Besides, more than 40% of revenues come from outside the country. It already has 14% of the Chinese market, which is considered the most valuable automotive market for the future. The focus is now on improving efficiency and lowering costs, so profits should improve. This could possibly be the most undervalued Warren Buffett dividend stock, since the dividend yield is 5.1% and the price-to-earnings ratio is merely 4.4.
11. American Express (AXP): Amex currently trades at a PE ratio of 12.3, which is great for one of the world's biggest card companies. It's been a Warren Buffett dividend stock for the past 52 years. The dividends have grown for 38 of those years.
12. Apple (AAPL): Apple isn't the most usual Warren Buffett dividend stock. It's the biggest tech company and Buffett seems to think the rate of return from both the buybacks and dividends are attractive. He invested $1 billion in the company earlier this year.
13. M&T Bank Corporation (MTB): MTB has been growing its dividends for the past 25 years. It now forms 0.5% of Buffett's overall portfolio. Since the 80's, the company has returned 18.9% a year on average to shareholders. A true Warren Buffett dividend stock.
14. U.S. Bancorp (USB): One of the most efficient banking companies in the world, US Bancorp has a great return on equity and assets. The company aims to save 30% to 40% a year on dividends and another 30% to 40% on share buybacks. That means over 80% of earnings are returned to shareholders.
15. The Kraft Heinz Company (KHC): Kraft is the quintessential Warren Buffett dividend stock. It's a consumer products company that forms almost 20% of the Oracle's portfolio.
16. Johnson & Johnson (JNJ): J&J have seen their dividends grow for the past 54 years. That's a truly long term investment for anyone seeking a high yield. The company's shares have also managed to outperform the S&P 500 over the past ten years. If you invested $1 in J&J stock and $1 in the S&P 500 in January 2006, you'd have $2.33 in stock and $1.84 in the market index today.
17. Kinder Morgan (KMI): This is a more recent Warren Buffett dividend stock. The company cut its dividend by 75%, which affected the stock price and allowed Buffett to buy cheap. The company has over 80,000 miles of pipelines and 180 terminals that help transport natural gas and petroleum throughout the country.  The stock is currently in deep value territory.
18. Wal-Mart (WMT): A more traditional Warren Buffett dividend stock, Wal Mart generated over $438 billion in revenue over the past 12 months. Sales have doubled in the past four years alone. It is one of the biggest companies in the world and has been part of Buffett's portfolio for decades. WMT is also part of the Dividend Aristocrats.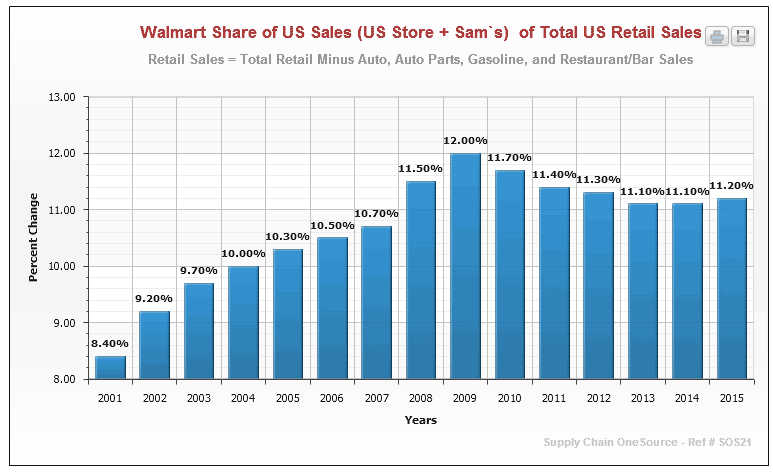 19. United Parcel Service (UPS): UPS is a value pick. The company has more than 2,000 operating facilities and 100,000 vehicles in its fleet. The market cap is double its nearest competitor FedEx. It dominates the logistics business in the country and is very likely to benefit from the rapid rise of online shopping.
20. General Electric (GE): GE is the second biggest conglomerate in the world, after Buffett's Berkshire Hathaway. The company has now shifted focus from financial services to manufacturing and has managed to keep growing dividends for the past six years. This makes it the ideal Warren Buffett dividend stock.
(Investors: Do you want to build a long lasting portfolio of safe dividend stocks that produce a passive income? Our Free Dividend Guide contains the top 10 dividend paying stocks for the long term. Download yours now.)