Some industries just aren't fertile breeding grounds for dividend-paying stocks. For an industry obsessed with growth or worried about potential risks, making a promise of regular cash flows to investors just isn't feasible. Every cent is precious in these industries as it can fuel immense growth or help the company through a sudden crisis.
Traditionally, technology and biotech stocks have been notoriously bad dividend payers. While tech companies like Google and Amazon are obsessed with reinvestment and rapid growth, biotech stocks need to save up all the cash they get to fund more R&D or prepare for a sudden failure of a new experimental drug.
Yet, there are some gems in each sector that promise a healthy and sustainable dividend. Here's a closer look at the best dividend paying stocks from the biotech and tech industries.
Why Does Tech Avoid Dividends?
Tech companies either hoard all their cash or invest it in new ventures to fuel expansion. Tech companies shy away from dividends because they believe the money could be better used within the company. Facebook, Google, and Amazon keep using their immense cash hoards to buy new startups and expand to new markets. Google, for example, loses a staggering $1 billion every three months as it tries to get its moonshot projects off the ground and into the mainstream. Facebook, meanwhile, spent $19 billion to acquire messaging platform Whatsapp and $1 billion to acquire Instagram in the past few years alone. Tech companies are usually pretty big spenders on M&A.
Amazon has been ploughing back all the cash it generates to fuel business expansion from day 1. While the ecommerce giant operates on a razor-thin net profit margin, it reinvests all the cash it creates to expand the business into new territories and markets.
Both these industries are reluctant to part with their cash. But that doesn't mean none of them pay dividends. There are five tech stocks three biotech companies that pay out a respectable dividend each year. Here's a closer look at these gems:
What About Biotech?
99% of biotech companies do not pay a dividend. That's not hard to believe when you consider the fact that nearly 90% of them don't even make a profit. The fact remains that biotech companies simply do not operate on a business model that leaves any room for dividends. They could lose money for years as they pour all the shareholder's cash into developing new drugs and getting it approved by the FDA. The cost of getting a new drug to market is genuinely staggering.  A study by Tufts Center for Cost of Drug Development found that the average biotech company could spend close to $2.87 billion in total costs for getting a new drug to market. That cost is only expected to keep rising as we move forward. With such pressure and dire economics, it's easy to see why biotech companies are reluctant to offer a dividend.
The iPhone and iPad maker has been notoriously stingy with its cash. During the Steve Jobs-era, the company would never spend a dime on satisfying investors. Since the stock grew spectacularly under Jobs, no one seemed to care. However, Apple is now the most valuable public company on the planet and that means it operates in mature industry with slimmer growth prospects.
Apple came up with a dividend plan in 2011 under Tim Cook and has since grown the annual dividends by 11% on average. The yield and payout ratio are still remarkably conservative at 1.53% and 37% respectively. Plus, it has enough cash to keep the dividend steady for two whole decades.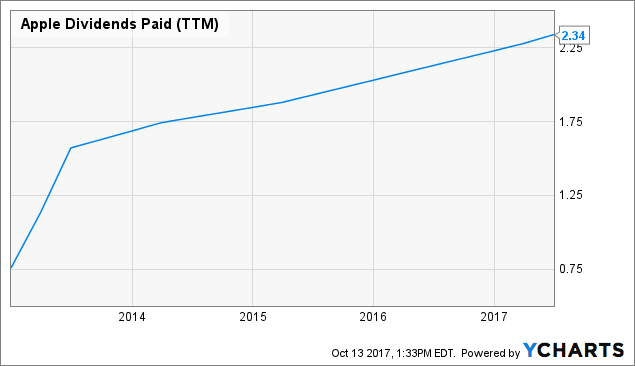 Microsoft (
MSFT
)
Microsoft's dividend yield is a lot closer to the S&P 500 average than Apple. At 2.1% yield, this is a better option for conservative, income-seeking investors. However, the dividend growth rate has shrunk from the double-digits in 2015 to single digits this year. Microsoft seems to be diverting more cash to acquisitions (such as LinkedIn) and developing its cloud software services and artificial intelligence capabilities to compete with Google and Amazon. Still, none of this should raise any red flags for a potential investor.  
Texas Instruments (
TXN
)
Texas Instruments sounds like an old, stodgy company that used to make calculators. Well, the company still makes professional calculators, but don't underestimate its potential as a growth stock. The company is now essentially a microchip manufacturer. The chips it makes go into specialized machines in the automotive and industrial sectors. They also offer a range of wireless chips that go into the smartphones most people use. 80% of the business is now chips, and that's allowed Texas Instruments to grow into a healthy dividend stock over the years. The dividend yield is 2.7% and the dividends have grown by 12% each year since 2004. TI is a genuinely promising tech dividend stock.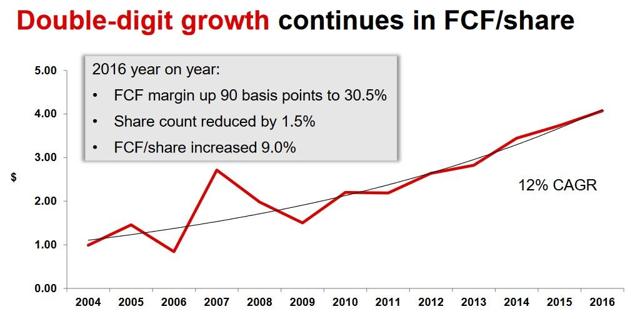 IBM (IBM)
The king of legacy tech companies is still around and chugging along nicely. Warren Buffett is a key investor in IBM and has held onto most of his position for years now. That could have something to do with the dividends it offers. The company's revenues may be falling every quarter, but that's only because they haven't fully sold off their legacy hardware businesses. Dividend yield is a relatively high 4.1% and the company's stock sells for only 12 times annual earnings. That proved to be an irresistible bargain for the Oracle of Omaha and should prove to be interesting for income-seeking investors too.  
Qualcomm (
QCOM
)
Qualcomm is one of the most interesting tech companies that doesn't get mainstream attention. If you've heard of the company, you're either a dividend investor, tech enthusiast, or a lawyer. That's because the chip manufacturer is embroiled in a number of antitrust and business practice-related lawsuits across the world. The company is famously sparring with Apple over a $18 part that goes into all iPhones. Elsewhere, regulators are targeting the company for its stranglehold on the smartphone industry. All this has pushed revenues and the stock price down. Now, the dividend yield is a healthy 4.3% and the stock trades at 11 times earnings. The company continues to innovate and earn healthy returns from its core market in smartphones, so it's a great buy for a contrarian investor.
AbbVie isn't just a biotech stock that offers a dividend, it's probably one of the best dividend payers on the market. Technically, the stock has only paid a dividend since 2013, but if you count the history of the company within its parent Abbott Labs, the combined company has been paying a stable and growing dividend since 1924. AbbVie pays a higher dividend than most other companies in the sector (2.8%) and trades at a PE multiple lower than most in its industry (22x).
Amgen has delivered some incredible dividend growth over the past few years. The dividend yield is a healthy 2.5% and payout ratio is a sustainable 40%. Meanwhile, at $38 billion, the company has one of the largest cash stockpiles in corporate America. Four of the company's flagship products – Enbrel and Epogen, Neupogen, Neulasta – face intense competition and saturated sales, which has had an impact on revenue growth recently. However, the company hopes that newer drugs such as  leukemia drug Blincyto and cholesterol drug Repatha offset the declining sales in older products.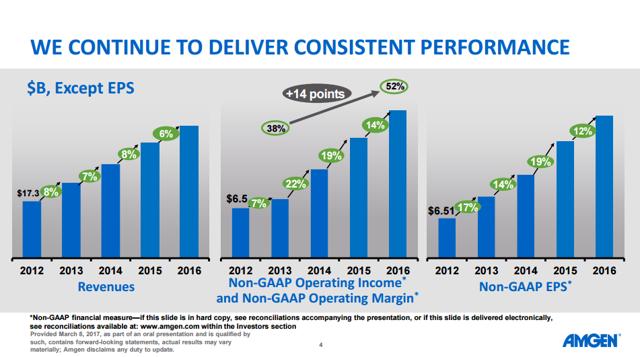 Gilead only started paying a dividend in 2015, but the dividends have experienced double digit growth in each of the past two years. That's because Gilead is being conservative with its cash. The company holds a cash stockpile comparable to Amgen at $34 billion and pays out only one-fifth the amount it earns in dividends. Sales for most of its drugs are strong, but the company may funnel more cash into investments rather than dividend growth for the foreseeable future. Nevertheless, it's a great dividend stock for income seeking investors.
Final Thoughts
Technology Company fortunes change overnight. Tech and biotech companies are usually conservative with how they spend their cash due to the risk of competition or sudden disruption. However, the stocks mentioned on this list are in such good shape that they can afford to keep innovating and investing in research while keeping investors satisfied with a juicy dividend.