It's been an eventful year. There's a new guy in the White House, North Korea is being taken seriously now, and there's even a brand new iPhone.
As we head into the last quarter of 2017, here's a look back at some of the best monthly dividend paying stocks 2017. Picked from our list of 35 monthly dividend paying stocks 2017, these are companies that have either improved their fundamentals, kept up their strategy, or fallen into 'value' territory. All of which make them worthy investments for you to buy and hold for the foreseeable future.
Let's start off with a stock we have always highly recommended – Realty Income (O). We've covered this monthly dividend paying stock 2017 in detail and also looked at its valuation. Earlier in July this year we said this was a fascinating and unique dividend paying company. It's  probably one of the most consistent dividend payers listed on the stock exchange today.  
This a real estate investment trust with a wide and diversified portfolio of quality assets spread across the country. However, it is a victim of its own success. The stock reached an all-time high in August 2016 of $69. Since then the stock price has plummeted. It now hovers around $60. At that price, the stock trades at a price-to-funds-from-operation (P/FFO) of nearly 20x, while its historic average has been closer to 17x. Dividend yield is still a healthy 4.5% and the most recent quarterly results have been spectacular, but the O dividend may be a bit overpriced right now. Considering how popular it is with retail investors, there's no way to say if you'll ever get a discount on it. For now, hold you horses.   
LTC stands for Long Term Care, and that's a pretty good description of what the company is all about. LTC is a high quality REIT that manages a vast portfolio of senior living homes and care centers. A few months ago the stock suffered a major drop. After the release of the earnings report in August, the stock dropped a whopping 6% within the week. The stock has only just recovered but there are still lingering problems with one of its largest tenants – Anthem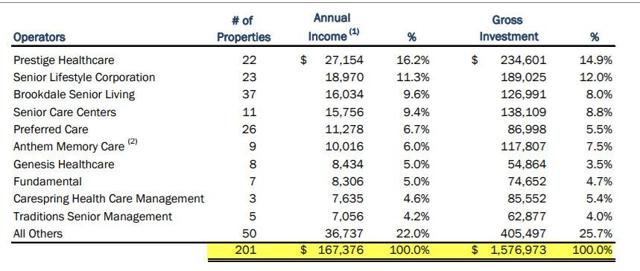 This doesn't make the REIT ricky. In fact, this is the perfect time for a contrarian bet for investors seeking long term value. At the moment the weighted average remaining lease term for the portfolio is 8.9 years but the company signs new leases with corporate tenants that range from 10 years to 15 years. The dividend yield isn't astounding (4.7%) but the payout ratio is a relatively safe 80% and LTC has demonstrated an ability to keep dividends growing steadily over the past 25 years.  
Stag Industrial has grown rather nicely since its IPO in 2011. The property portfolio has expanded fourfold since then and the company now manages 300 assets across 37 states. Each of these 300 properties is a standalone warehouse or manufacturing plant that is occupied by a single tenant. That's where the name 'STAG' (single tenant acquisition group) comes from. Not only is this a stock that offers a great dividend yield of 6% but it has also managed to grow that dividend by a compounded rate of 9% since 2011. Probably one of the best monthly dividend paying stocks 2017.
EPR focuses on a fun niche – entertainment properties. The company buys and manages movie theaters, golf driving ranges, ski parks, water parks and private schools across the country. Although the dividend yield and the growth rate are rather pedestrian (5.5% and 7% respectively) this is a special sort of REIT. Because of the niche focus the REIT works with a network of specialized property valuators with experience in the entertainment sector. This is a rare skill and that makes the properties rare as well. Not a lot of people can accurately valuate a ski park or water park. That's what makes this such a unique investment.
Main Street is a well managed business development corporation. The company invests and manages medium sized businesses to generate a yield and has so far done pretty well on that objective. Houston, Texas-based Main Street provides debt and equity financing to a broad range of businesses. The portfolio is pretty diversified, with companies that range from soup makers to eyeglass marketing service providers.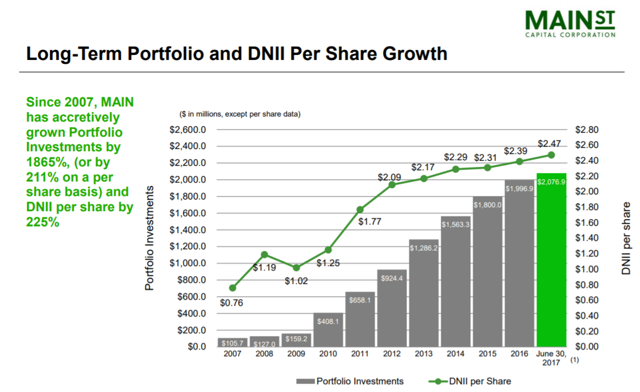 Over the years, the company has seen a tremendous boost in both its book value and the net income from investments (NII) which has made it a BDC investor's dream opportunity. However, this has pushed the price up significantly and many experts argue that the valuation is simply unjustified. The stock currently trades at a 70% premium to book value while the average BDC listed on the stock market trades at par to book value (1x).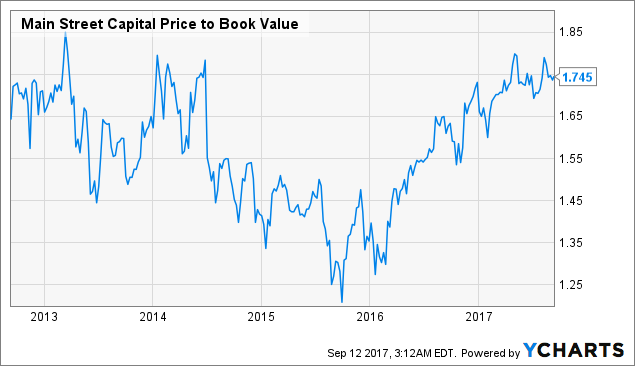 Now here's a great value buy for this year. Prospect Capital Corp is a BDC, similar to Main Street Corp, but with one key difference – it's cheap. It's a monthly dividend paying stock that sells for only 86% of book value. Also, because the price has moved lower over the past few years, it offers a whopping 12% dividend yield. Part of the reason the stock has moved lower is a sudden and unexpected dividend cut in 2015. The stock usually paid out much of its earnings which meant the payout ratio was too high. The company currently has over 300 investments in its portfolio and assets are worth $6.2 billion. The fact that dividends have been kept level for much of this year could indicate the company is optimistic about a rebound in its NII over time.
Eaton Vance Limited Duration Income Fund
Probably the only closed-ended fund on this list, Eaton Vance is a fixed income fund that invests in mortgage-backed securities, bank loans, and fixed income bearing assets. The fact is, this fund has a duration of less than 3 years. This means it is less likely to suffer the fallout from rising interest rates over the long term. Currently, the stock trades at 10% discount to its net asset value and provides a 7.7% dividend yield to investors.  It's a complex but interesting monthly dividend paying stock 2017.
One of only two companies on this list, Shaw Communications, is a telecom and entertainment giant from Canada. There's no doubt this is an old telecom giant with a well recognized brand. Don't be fooled by the 5.5% dividend yield. This is a growth stock that offers a slice of the potential telecom market in a developed country. With better acquisitions and an expanding LTE network across North America, Shaw is gradually chewing away market share from the Big Three, Bell (NYSE: BCE), Rogers (NYSE:RCI) and Telus (NYSE: TU).  The wireless network is also expanding at a double digit rate since Shaw completed the acquisition of WIND.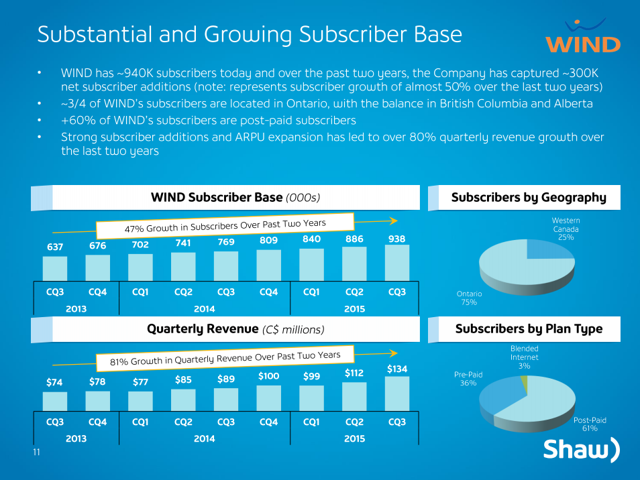 Shaw has always been a stable and trustworthy dividend bet. For decades the company has managed to sustain and grow its dividend. Now, with smart investments and acquisitions the company is finally breaking ground on a new frontier – wireless. Shaw also has intentions to launch an online streaming platform to rival Netflix and win over more customers. As the LTE network rolls out and more people sign up to the wireless network, Shaw could be in a much stronger position in just a few years.
Final Thoughts
Valuations and timing are important even if you're trying to make a long-term bet on a dividend stock. You need to consider stocks that match your investment objective and are available at the right price. Sometimes, a good investment comes in the form of a beaten down stock. Sometimes it's a company within an industry on the precipice of change. The eight stocks mentioned on this list are all worth a closer look as we close 2017. They're all monthly dividend paying stocks 2017, so the payment schedule matches your monthly expenses appropriately.