Consistency is a common feature of large, successful businesses. Walk into a Walmart or a Whole Foods, and you'll be able to easily identify the people who work there. They might not look the same, but they all dress exactly alike.
A strictly enforced uniform code does more than just let people differentiate staff from customers. It helps create a branded image. It allows the company to sustain, manage, and project a certain aesthetic. A corporate persona, if you will.
This corporate persona goes beyond simply the type of clothes that staff wear. Major corporations like to coordinate everything, from the floor mats in the lobby to the hand towels in the bathrooms. Everything looks like it was made in one giant branding factory. That's because it probably is.
Supply this corporate persona, it turns out, is big business. A Cincinnati, Ohio-based firm offers what is perhaps the most consistent and comprehensive package of business services in corporate America. Cintas Corp. has taken the simple uniform and office branding and turned it into a $14 billion business with hundreds of locations, thousands of clients, and millions of uniforms.
Luckily for this blog, cintas stock is also a dividend payer. Which means we can take a closer look at this little-known company keeping the corporate world looking corporate.
About Cintas
Richard (Doc) Farmer laid the foundation for cintas stock in the unlikeliest of places – his family's rag salvage business. Farmer inherited the family business in the 1930's, but it had been around for decades prior. Farmer's grandfather noticed the rags being dumped at industrial and commercial buildings and decided to salvage them and sell them back to the corporations.
In 1929, Doc Farmer changed the company name from 'Acme Wiper and Industrial Laundry' to 'Acme Industrial Laundry Co.
Doc had managed to create a company with $180,000 in sales, But the net worth was negative $34,000 and growth had stalled, which frustrated his son, Dick Farmer. Dick eventually took over from his father and decided to shift the company's focus away from rags and onto uniforms. Dick realized that a lot of the competitors were doing more than just taking laundry away and bringing it back clean. They were renting the uniforms out to the corporations.
By 1966, the company name had changed again and revenue was $2 million for the very first time. What was a small company with 15 employees was now a national operation with several branches. Farmer soon branched out into centralized uniform deliveries and laundry services.
The acquisition of Cintas in the 1970's propelled the company forward, turning it into a niche service provider with a significant competitive advantage. Now, Cintas Corp. is a $14 billion company with more than 800,000 clients and nearly 35,000 employees. Cintas stock was listed on the public stock exchange in 1983.
Business Model
Since inception, cintas has had a narrow focus. The company caters to corporate clients and provides complementary services that help them create and maintain a certain branded physical appearance.
Cintas provides services to a number of industries, including Food Service, Healthcare, Automotive, Gaming, Hospitality, Education, and Government.
Services include uniform rentals, corporate training, fire protection, promotional products, and flame-retardant clothing. In addition to all these, Cintas also provides facility management services such as tile, mat, coil, and chemical cleaning.
More than five million people wear a uniform supplied by Cintas and more than  800,000 corporations either buy or rent services and uniforms from the company every year. Cintas is now run by the fourth generation of the Farmer family and has one-third (35%) market share in uniforms across America.
Of the $1.5 billion in revenue the company earned last year, 80% came from uniform rental and facility management services. All the other services contributed only 20% of sales.
Financials
Uniform rentals and facility management services are the two key business segments at Cintas. The gross margin for this part of the business is an impressive 45%. The rest of the business earns a similar gross margin. Net margin, however, is 8.9% of the twelve months ended in March 2017.
At the same time, the company had $191 million in cash, cash equivalents, and marketable securities. The company has considerable, but not worryingly high debt. Total long term debt is nearly $2.7 billion. The debt to equity ratio, meanwhile, is 1.36, as per the latest results. Total assets are $6.8 billion.
Over the years, Cintas has been remarkably tight-fisted with its cash. Not only does the company fight unionization with relentless vigour but the company only pays out less than one fifth of earnings to investors every year. Cintas stock has, no doubt, offered a dividend every year for more than 33 years running, but the yield has been little over 1.5%. For most of this period cintas stock dividend were increased by the minimum required to keep Cintas in the Dividend Aristocrats Index.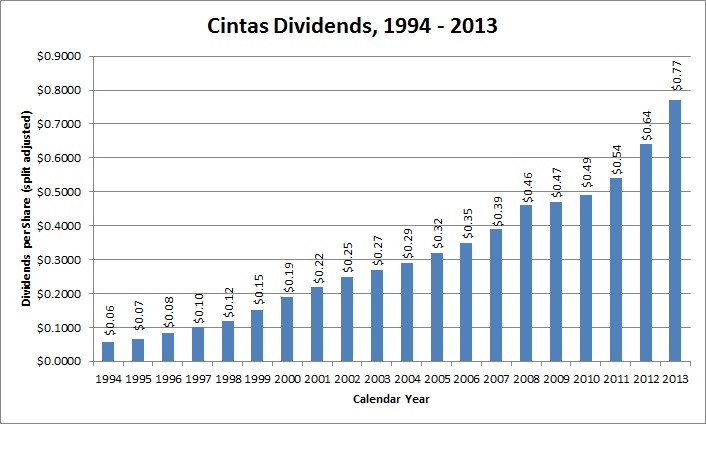 This year, the company took a break from that tradition and decided to boost the dividend by 20%. The one year forward yield, however, is still 1.33%.
Key Risks
Cintas faces several risks that threaten both its market share and its profitability.  A sudden change in the business environment is, perhaps, the biggest risk. If the economy slows down and hiring hits a ceiling, fewer people will need uniforms. Companies also tend to cut back on certain supplies if they face financial struggles.
Another threat is high labor costs and a strong dollar. In case the greenback strengthens and labor costs spike, companies will start outsourcing factory and warehouse work. As these jobs go abroad, Cintas has fewer American employees to provide uniforms to.  
Finally, companies could switch from Cintas to one of its competitors if the management decides to invest in rebranding. Changing the uniform is a way to create morale and companies do switch to new styles or vendors when a contract runs out.
All these business risks have low probability or are short-term hurdles. The economy eventually recovers from recessions, hiring resumes as normal, and Cintas' services are sticky. There are also considerable switching costs for a corporation who receives a range of the company's services.
Altogether, cintas stock and dividends are in a safe place.
Valuation
The stock could be considered overpriced if you consider the dividend yield or the Price-to-Earnings ratio. Forward PE is currently at 25.6x (trailing PE is 32x, compared to 37.5x for the industry) and the dividend yield is barely above 1%.
Over the past few decades, the company has compounded shareholder wealth at an annual rate between 8% and 10%. That's not impressive when you consider other, higher yielding Dividend Aristocrats, but it's not bad either.
Considering how slow this industry changes and how unlikely it is to be disrupted by new entrants, investors can expect this rate of return to continue into the foreseeable future.
Meanwhile, the PEG ratio is 2.1.
Assuming a WACC of 4.75 and a growth rate of 3%, the intrinsic value for cintas stock works out to approximately $76 (based on the expected $1.33 in annualized dividends this year).
The current market price is $130, which means the stock is trading at twice a reasonable valuation.
Final Thoughts
Supplying uniforms is the definition of a consistent business. The cintas stock is about more than just creating revenues from rental services and maintenance charges. Cintas is a company born out of the need for a pristine and consistent corporate image. Successful and large enterprises take their public appearance and employee uniforms seriously, which is great for Cintas' bottom line.
Also, the company has proven itself rather good at generating supplement income from other sources. Cross selling services to stock cleaning agents and maintain the tiles at corporate offices is a natural extension of their core services. Right now, the company generates most of its sales from renting out uniforms and maintaining office buildings.
It's a good business to be in when the economy is performing well. However, when there's a recession and hiring stops, the sales will inevitably fall and this could have a knock-on effect on cintas stock.
Although the company is a very consistent dividend payer, at the moment the dividend is barely a fraction of the annual earnings.The yield on cintas stock is less than the S&P 500 average. Meanwhile, the stock trades at a serious premium to its intrinsic value.
Overall, this is a great dividend-paying Dividend Aristocrat with a consistent history and a enviable business model. However, the stock is not worth buying at this price.