Dividend yield 3.26%
Dividend $1.4
Price $43.6
We promised we'd cover KO this week and here we are. Since we covered PepsiCo last week, there's a small snippet at the end of this article comparing the two companies.  
A pure consumer beverage company of mammoth proportions, it doesn't get much bigger than Coca Cola. Not only is it one of the world's most well recognized brands, but is also one of Warren Buffett's favorite stocks. He owns nearly 9.4% of the company which is a stake worth close to $16.7 billion. In fact, Buffett is so closely associated with KO that bottle of Cherry Coke in China carry his face on the packaging.
It's fair to say, then, that KO is a case study example of a value stock. The fact that Buffett isn't offloading his shares in the company is clearly a good sign. But he isn't buying any more either. The stock price has languished behind the S&P 500 and the beverages sector in general since 2012. It offers a healthy dividend yield, and a vast portfolio of some lucrative beverage brands, but faces the same pressures against sugary drinks across the globe.
Here's a closer look at the company's finances, future prospects, and current valuation to help you decide if you should join the Oracle of Omaha in his coke love affair:
About Coca Cola
Atlanta-based pharmacist Dr. John S. Pemberton came up with the original formula for cola in 1886. The formula, price, bottle design, and even the corporate strategy all have extensive history behind them which is too dense to cover here. Suffice to say the company has had an interesting journey to becoming the world's biggest beverage company.
Unlike PepsiCo, Coke is a pure beverages company. They acquire brands to keep growing, but all their acquisitions are focused within the global beverage industry. The firm offers products in over 200 countries, which means there are only 2 countries where it is not officially available – Cuba and North Korea. Nevertheless, coke manages to get imported in these isolated countries as well which is testament to the brand's relentless appeal.
Although there are concerns about the level of sugar in the soft drinks, Coke suggests most of their major brands have zero-calorie or low-calorie alternatives. Nevertheless, the health impacts of sugary soft drinks is hard to deny and countries that have been adversely affected are starting to fight back.
It's too early to say whether healthier new products like Coke Fiber or coconut water will reinvigorate growth for the company and help it preserve market dominance.
Finances
As of the end of 2016, Coca Cola reported $42 billion in operating revenue, $6.5 billion in net profits and 24 million retail customer outlets. The company paid out $8.4 billion in shareholders in the form of dividends and stock repurchases. It has managed to increase its dividend annually for a whopping 55 years.
Free cash flow was close to $6.5 billion last year and the company's debt is 35% of total assets.
Over the past 10 years the growth rate of revenues has decelerated to 5.7% annually. Year on year growth has been negative since 2013. Y-o-Y net income growth was negative for three of the past four years.
Growth, no doubt, is slowing and operating income and earning per share have all been declining as well. Considering the company has seen growth rates decelerate over the past half-decade, it's fair to say a major shakeup is need to revitalize the bottom-line. KO management seems to understand this and is implementing a long-term strategy to get the company's mojo back.
Valuation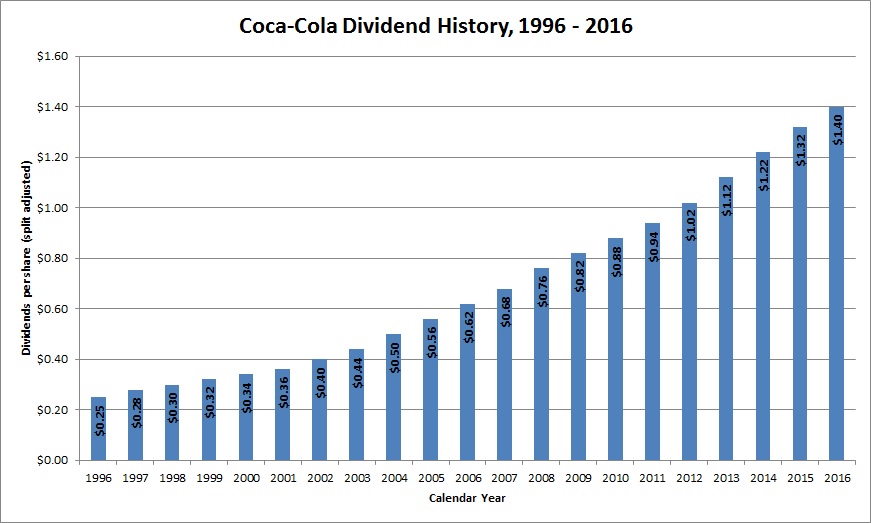 As usual, we'll take a quick dividend discount valuation to check if the stock is priced fairly. The dividend expected for this year is close to $1.48. Dividends have grown 6% on average for the past few years, but it's fair to assume the dividend growth will slow next year too. We've assumed growth will be a paltry 4% for 2018. However, considering the company's growth has been slowing at a fair clip, we've assumed growth will be in line with the general global economy at 2% in perpetuity.
WACC is assumed to be 5.4%. So, the valuation works out as follows:
Intrinsic value = $1.48 x (1.02)/ 5.4% – 2%
= $44.4
KO seems to be fairly priced by this measure.
Final Thoughts
Coca Cola is nearly unbeatable as a valuable dividend stock. It's been one of Warren Buffett's favorite holdings for nearly thirty years and for good reason. Coke is the undisputed king of consumer beverages. But considering the trend towards healthier snacks and drinks, and the valuation of KO shares at the moment, PEP may be a better bet.