When you think of a furniture company you probably imagine an enterprise dedicated to fancy and artistic designs, aesthetically pleasing home fixtures, and beautiful interior decor.  The sort of company that stands out and make a bold statement, gets featured in architecture magazines and has a chain of high street stores to cater to loyal fans.
Carthage, Missouri-based Leggett & Platt (L&P) isn't one of them.
L&P is the sort of company that's happy to fade into the background of people's home's and offices. If you live in North America, there's a good chance you have their products in your room without noticing them. There's an even higher chance that your bed has a mattress based on their ingenious patent.
Today, we'll be taking a closer look at this fascinating dividend appreciation stock that has managed to fly under the radar while transforming homes across the world for more than 132 years.
About L&P
Partners J.P. Leggett and C.B. Platt got together in Carthage to form the business in 1883. Leggett was the inventor of a unique solution that would change the industry forever – bedding spring coils. Platt, meanwhile, was an expert at manufacturing and logistics.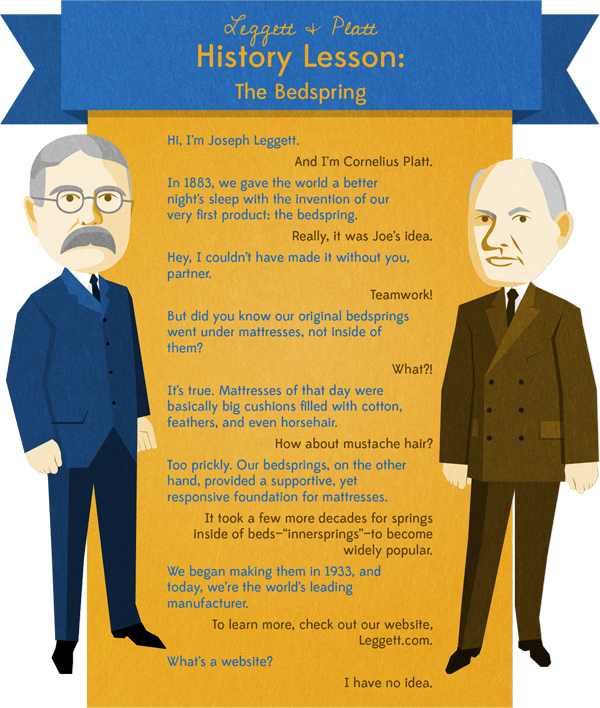 The two men did well with their popular product, registering numerous patents over the years and expanding the business to other cities and states. From horse-drawn carriages and five employees, the two partners helped build the business into a major American manufacturer. By mid-1900's the business operated four separate plants and employed over five hundred people. Annual revenues reached $7 million by 1960, when the company was handed over to professional management and listed on the New York stock exchange in the 1970's.
The company has been part of the S&P 500 since 1999. It now has more than a hundred different manufacturing plants spread across nineteen different countries.
Business Model
Beds are still the core of the L&P business, but the operations are spread out and vertically integrated. There are four business segments that complement each other – residential products, industrial products, furniture products, and specialized products.
Basically, the company makes the components that make a bed. They even supply the machinery. They produce their own steel wires for the innersprings and coils used to make beds. These steel rods are supplied to other industrial customers. Besides beds, they also supply machines and components for manufacturing other furniture. Under a private label they sell furniture in Europe. After a few recent acquisitions they also supply aircraft and automobile components.
From geo components to aircraft parts, this company is a silent giant that supplies the nuts and bolts used in ubiquitous products across the world.
This is a well-diversified business with multiple streams of income. Profit margins are higher than average and the management is peerlessly efficient. However, the company has struggled to keep up with analyst expectations in the past few years. Revenues have stalled and are now expected to creep slowly upward. Management expects consumer confidence to pick up and a revitalized housing market to drive growth in the future. But with competition from cheaper manufacturers in Asia who export most of the furniture used in America, the business faces a genuine challenge.
Management is facing the rising challenges and flat revenues with a new strategy. They call it 'Grow, Core, Fix, Divest' which means they will divest subsidiaries that are not as profitable and buy new companies to expand into new markets.  
Financials
The business now employs more than 21,000 people and earns $3.75 billion in revenue. Revenue has mostly flatlined since 2012. Back then the company earned $3.72 billion and figures have been more or less the same for the past five years.
Net income margin is close to 10%, and in 2016 the company earned $367 million in net income.  
The firm exemplifies stability, which comes across from its dividend and buyback history. Dividend have grown every year for the past 45 years, which outs L&P firmly in the dividend appreciation stock list and the Dividend Aristocrat Index.
This year the company will earn $2.8 per share and payout $1.44 per share in dividends. That means close to half of earnings is paid out in dividends – a healthy payout ratio which the company has managed to maintain for the past few years.
Considering the fact that the company's shares are currently trading at $52.56, the dividend yield is a very average 2.74%. Barely higher than the yield on a ten year government bond or the S&P 500 in general. However, the company also has a generous buyback program. The company has spent hundreds of millions in buying back shares from the market over the past few years. The three-year average buyback ratio is a healthy 1.4, which means shareholders are getting a better return than what's apparent from the dividend yield.
Over the past few years the company has managed to return a healthy amount to shareholders. The table below shows the estimate and actual CAGR the company has managed for shareholders with dividends and buybacks included.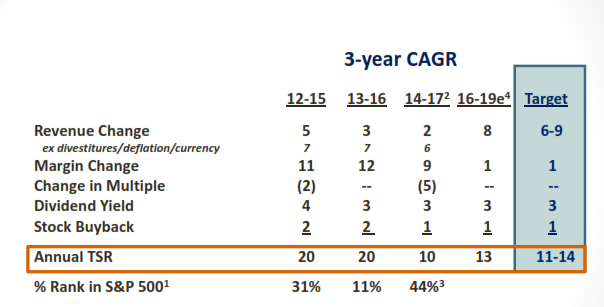 Altogether, L&P is an efficient company that has managed to create great value for shareholders despite a lack of top-line growth. Now, with a fresh strategy and more mergers or acquisitions, the company can keep growing earnings and dividends for the foreseeable future.
This is a stable dividend stock, no doubt. But is it worth buying at the current price?
Valuation
As with most other dividend appreciation stocks, we will analyze Leggett and Platt with a traditional dividend discount method as well as some market multiples.
In terms of the dividend, we already know this year's expected dividend is $1.44. The weighted average cost of capital could be nearly 7.8% while the company usually targets revenue growth of 4-5% a year. So, if we assume long-term growth will be 4%, the valuation works out as follows:
Intrinsic value = Dividend x growth rate / WACC – growth rate
=$1.44 x 1.04/ 7.8% – 4%
=$39.4
Turns out the intrinsic value is close to $39.4 whereas the market value pers hare is $52.56. That means the stock is currently 33.4% overvalued according to this model.
The stock also appears mildly overvalued when it comes to industry multiples. On a forward basis, the stock trades at a PE ratio of 17.6 and a PS ratio of 1.6, both of which are slightly higher than the closest competitors – Select Comfort Co. (SCSS), Tempur Sealy International Inc. (TPX), La-Z-Boy Incorporated (LZB), Fortune Brands Home & Security, Inc. (FBHS), and American Woodmark Corporation (AMWD).
Altogether, it appears the stock is overvalued right now. Also, there is significant pressure from competitors and there's no guarantee the new strategy will revitalize growth.
For income-seeking investors, Leggett & Platt should qualify as a company worth watching. If the earnings or revenues improve with a better strategy or new products, the valuation might change, making this a worthy investment.
Final Thoughts  
Leggett & Platt is a company with a rich and long history. It's astonishing how the inventor of spring bedding coils has managed to fly under the radar for so long. Most people have no idea this mammoth company exists. That's because the business model isn't focused on consumers, it's focused on manufacturers and retailers.
The company creates its own steel rods and turns them into coils. The firm manages all the manufacturing and logistics of components and machinery. Diversified business operations allows the company to earn from multiple sources, from aircraft parts to garden accessories.
This strategy has helped the company maintain earnings and a steady dividend payout for the past forty five years. Leggett & Platt is a commendable business success and a shareholder-oriented company. It's a great dividend appreciation stock that is currently overvalued.
For patient investors willing to see if the fundamentals improve and growth picks up, L&P could someday be a great addition to a rock solid dividend portfolio.