Nothing beats a chilled can of Pepsi on a warm summer's day. Well, nothing besides Coca Cola, of course.
Coke and Pepsi have been the two key rivals in a market that is as simple as it is historic. Who would have thought that selling black, fizzy sugar water will spawn not one but two global brands. KO and PEP are brilliantly successful and cash rich companies with a long history of dividend payments, which puts them both firmly in the Dividend Aristocrats Index.
We'll be taking a closer look at KO next week, but this week we'll take a deep dive into PepsiCo's book and see if we can find some elusive value in the beverage industry.
About PepsiCo
New Bern, N.C.-based pharmacist Caleb Bradham came up with the formula for a cola in 1890 and decided to start a company to sell it. The business failed, but the brand was later bought out by another company and the formula improved.
118 years, multiple acquisitions and a merger with food giant Frito-Lay Inc helped create the multibillion global food and beverage behemoth we know today. PepsiCo now operates from a headquarters in Purchase, New York, employs 264,000 people, owns 22 different global brands and generated $62.8 billion in revenue last year.
There's absolutely no doubt this is one of the biggest and most well known companies on the planet.
Financials Nitty Gritty
As of 2016, PepsiCo's  sales were split almost evenly between food and beverages. 52% of the company's revenues come from food and 48% come from beverages. That's hard to believe considering the company's most famous brand is still Pepsi cola.
Another interesting fact is the regional distribution of sales. 58% of sales still originate from America. The rest is spread across the world.
Although there are concerns about millennials not drinking enough of  cola and the health impacts of sugary drinks, it's important to note that a majority of PEP's revenues now come from food and even the beverages section includes healthy drinks such as . By 2025, the company intends to cut calories in all softdrinks by 20%.
The portfolio includes healthy food and drinks, as well as water brands such as LIFEWTR and Aquafina. There's also initiatives to sell probiotic drinks like Kevita.
It may be interesting to note that the company doesn't rely exclusively on mergers and acquisitions to fuel growth. Last year, the company managed to grow organic revenue by 3.7%, while earnings per share grew by 9% considering the core business in constant currency terms.
For a business of that size to experience organic growth of nearly 4% is rather impressive. What's more impressive, perhaps, is the profitability of the whole business. PepsiCo managed to expand return on invested capital to 21.5% in 2016.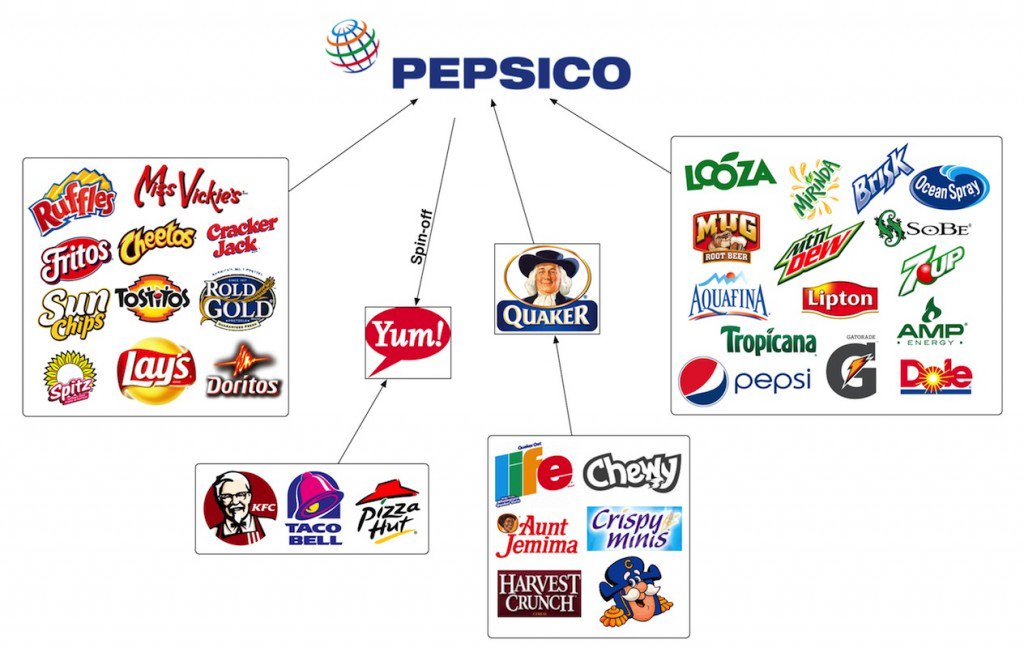 Shareholders have shared in this pace of wealth creation. Over the past ten years, the company's stock has returned an annual rate of 8.2% (higher than the S&P 500) and dividends have grown by roughly 10% every year over the same period. In fact, this year marks the 45th consecutive increase in the company's annual dividend.
In 2016, the company made $10.4 billion in net profit and returned $4.2 to shareholders in the form of dividends and $3 billion in buybacks. The dividend yield is currently 2.8%.
Valuation
It's easy to see PEP as a value company. The management sure seems to think the stock is undervalued. They spent nearly as much on buybacks as they have on dividends.
This year the company is expected to pay $3.2 per share in dividends. Considering the market price of $113, that's a dividend yield that's squarely in line with the S&P 500 average.
While the company has managed to grow dividends at a 10% annual rate over the past ten years, we've adjusted this rate downward to 5% going forward.
Weighted average cost of capital, meanwhile, is closer to 7%. So, with an expected dividend of $3.4 next year ($3.2 x 1.07), here's what the dividend discount model brings up:
Intrinsic value = $3.4 / 7% – 5%
=$170
PepsiCo's intrinsic value seems to be close to $170, which implies the current stock price is at a discount of 33.5%.
Final Thoughts
If there's ever a case study on a dividend generating machine, PepsiCo would be it. It's an efficient business with great fundamentals and a diverse portfolio of brands.
The company is future-ready with its healthy food and drinks initiatives. They've managed to keep the core business growing alongside investing in brands and products that will be popular in the future.
Altogether, this is a great buy for anyone willing to hold out for the long term.