Investing always involves a certain degree of risk. Nothing can ever be truly risk free. You can do all the research in the world, calculate the value of a company, and only invest in stable blue chip companies. But you can never predict the future.
That's where the 'margin of safety' comes in. The margin of safety is simply a safeguard against the unknown. If you've done your calculations and figured out the intrinsic value of a company, it makes sense to buy the stock for less than that 'fair value', just to be safe. This discount against the fair value of a company accounts for genuine errors in calculation, lack of information, and unpredictability.
If you decide to leave a margin of safety of 15%, you can create a rock-solid portfolio of stocks that are less likely to disappoint over the long term. You're chances of failure and picking the stock at the wrong price are minimized by this margin.
We've already seen how you can calculate the intrinsic value or fair value of a stock. In case you missed it, read the previous blog post and come back later. Now, I want to discuss the appropriate margin of safety and its effects on your portfolio's overall performance.
(Looking for the best dividend stocks? Download my top 10 list of dividend stocks here.)
How Much Margin Of Safety Do You Need?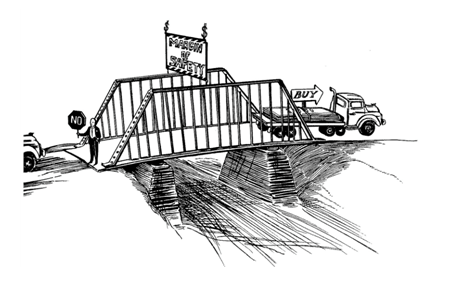 The most obvious question you could ask yourself is – how much margin of safety do you need? If you keep the margin too thin, you expose your assets to too much risk. On the other hand, if your margin of safety is too wide you'll set unreasonable standards and never end up buying anything on the market. So, to figure out how much of a margin is appropriate, let's take a look at what the experts have to say on the matter.
Experts who adopt value investing usually fall into two camps – Deep value and growth at reasonable prices. Deep value seekers are known for their wider margins of safety and pessimistic assumptions during valuation. These investors are look for a hard bargain. They want a company selling for less than its net tangible assets, if possible. Legendary investor Benjamin Graham falls into this camp. Graham is known as the father of value investing and hist style i very reminiscent of modern-day 'deep value' strategies. He had a set criteria for stocks he believed were worth investing in. These criteria were stringent and designed to weed out the most undervalued stocks on the market. Ben Graham wasn't just a successful academic and hedge fund manager – he was also a mentor to none other than Warren Buffett.
Buffett started off in the deep value camp, but over time realized that some companies were worth paying for at fair value. This new camp is now called the 'Growth at reasonable prices' of GARP. GARP investors look for companies that are growing well and have stable earnings. These investors believe the company is worth more alive than dead. Since the dividends or free cash flows will keep increasing over time if the company does well, it's worth paying more than the fair value of tangible assets.
Both camps agree that a company needs to be bought when its price is below intrinsic value, but they disagree on the limit of this margin. GARP investors would assume a 10%-15% margin of safety is enough, but deep value investors would look for a margin that is as wide as possible. For the average income-seeking investor, picking a rate is simply about your personal appetite for risk and investment style.
Protection and Better Returns
Here's an interesting fact about the margin of safety – it's not just for protection. Leaving a margin between the fair value and purchase price is actually proven to have a great effect on the overall performance of your portfolio.
The logic here is simple. If you buy something for less than it is actually worth, sooner or later the market will realize its true value and reward you with a better return. Even if the market never really appreciates the stock and it stays undervalued, share buyback programs and reinvested dividends will keep growing your stake of the company at reasonably good prices.
Here's what Warren Buffett had to say on the matter:
In his early days, Buffett focused on buying companies for less than they were worth. The margin was deep enough to allow him to make a 30% to 50% return on the stocks he bought. If the stocks stayed undervalued for long, he would simply add more to his holdings.
Example
Just to clarify the need for a margin of safety, here's a hypothetical stock investment. Company A pays $1.80 in dividends this year and is expected to grow this dividend by 5% annually. If you assume the discount rate is 12%, the value of the stock (based on dividend discount method) is $27.
Now that we know the fair value, let's see what happens when you buy 100 stocks at $27 (fair value) and another 100 for $22.95 (15% margin of safety) for ten years.
Fair value:
You invest $2,700 and receive $180 in dividends. After ten years of reinvesting dividends the price per share will be $44, total investment value will be $8,385 and dividend income will be $559. Pretty good.
Margin of Safety:
With the margin of safety, you invest $2,295 for 100 shares and receive the same $180 in dividend that first year. Over the course of ten years the market has realized the value of the stock and it is now trading at $44. But the value of the investment is $8,768 and annual dividends are now $584.
In scenario 1, the annualized returns were 12%, whereas with a margin of safety in scenario 2, the annualized returns were 14.3%. A massive difference over the course of ten years.  
Conclusion
To sum up, you can never be completely sure of anything. Investing in anything involves a certain degree of risk. To combat this risk it is recommended that you leave a 'margin of safety' with all investments. In other words, aim to buy stocks for less than they are worth. Calculate the intrinsic value of a stock and buy it for 10% to 20% less than that fair value. This will offer protection and better returns for your portfolio over time.
(Looking for the best dividend stocks? Download my top 10 list of dividend stocks here.)