There's no easy way to get rich. Experienced investors and educated professionals already know this. The path to riches is long and filled with obstacles. Any good investment requires a lot of time, effort, and research. It also requires a fair bit of judgement.
Judgment is essential because not every opportunity is as it may first appear. Sometimes a deal is simply too good to be true. You may be offered a brand new house on a lovely street or a sparkling new car for a deep discount. Tempted by the offer and the basic terms, you buy into the house and car only to discover an issue with the basement or a problem with the engine much later. Sometimes, the most attractive purchases could turn into our deepest regrets.  
It's the same with stocks. Particularly, monthly dividend stocks and etfs. Instead of a sticker price, most investors are somewhat infatuated by a single favorite metric. It could be the return on equity, the price-to-earnings ratio, or the 52-week moving average. Whatever it is, investors have a prime focus on certain metrics which they find hard to shake off. When it comes to income-seeking investors looking for good monthly dividend stocks and etfs, the prime focus is summed up in one word: yield.
Dividend yield, or the amount of money an investor gets in dividend on the dollar amount of investment, is an informative and closely watched metric. A single number can tell you a lot about a company's prospects, condition, and financial health. However, it doesn't tell you everything. Sometimes, the highest yielding monthly dividend stocks and etfs are hiding something toxic under the surface. It could be lackluster performance, too much debt, a changing industry, or a potential lawsuit. Whatever the reason, a high dividend yield could entail high risk. It could signify a trap for investors. The dividend could be cut or the stock price could plummet causing immense and mostly unexpected losses. This dividend trap or value trap is one of the trickiest things to identify.  However, there are always red flags that investors can look for when trying to avoid these dividend traps.
Here are some of the situations where a high yield monthly dividend stock or etf could become a value trap:
Leverage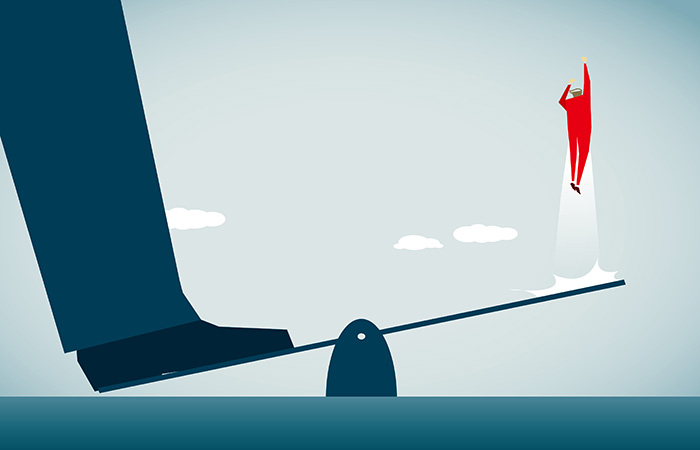 When you're investing in monthly dividend stocks and etfs, 'leverage' might be the single worst term. Borrowed money comes at a cost, usually a rather high cost. Leverage must be paid for and that interest payment is a regular drain on cash flows. Not only is this drain consistent and deep, it stays regardless of what the situation is with the business. So the tide could turn and the business could be facing a bad year, but the interest payments on a loan stay the same. When the net-debt-to-equity ratio is higher than average, this becomes a concern. Companies that find themselves in a tight corner, unable to pay their borrowers may have to take drastic steps. These drastic steps could be anything from bankruptcy to a dividend cut. Regardless, too much leverage should be avoided.
Payout ratio
Payout ratio, is a metric we've discussed before. It's the proportion of money a monthly dividend stock or etf pays out from earnings. Essentially, this minor ratio suggests how much wriggle room a company has. If the ratio is too high, there's very little headroom for things to go wrong. If, for example, a company pays out all its earnings (100% payout ratio) a minor drop in earnings could impact the dividend yield. Usually, companies find it really difficult to sustain a higher than average payout ratio for too long.
Stymied growth
A sudden drop or saturation in growth rate is another red flag when it comes to monthly dividend stocks and etfs. If the company isn't growing, dividends won't grow either. That means the stock will move sideways and the yield will barely matter when inflation chews into the value of money over time. If earnings aren't growing, they're at increased risk of declining. This will certainly have an impact on the dividend over time.
Earnings Issues
A sudden and unexpected loss or the failure of a big project could doom earnings. Profits, after all, is the fuel that keeps the dividend train running. So, a loss or decline in profits is a red flag. Prolonged decline in profitability is a sure sign the investment is a value trap.
Legal Issues
A messy legal issue or impending fine could be a massive blow to profitability. A recent example is the $200 million fine JP Morgan had to pay for its hiring practices in certain countries in Asia. A more pertinent example is Volkswagen. Although the company isn't listed here in the States, it is listed in its native Germany. The company had to issue a cut in dividends to shore up funds for the record-breaking fines it had to pay in the aftermath of the emissions scandal. The stock price dropped too. Volkswagen was considered a remarkably safe company. The dividend cut it issues was the first one in six long years of regular dividend growth. Goes to show how a dividend trap can spring up unexpectedly.
Regulatory Issues
Pharmaceutical companies are well aware of the risks of regulation. The FDA can decommission their labs, stop research abruptly, and disallow the sale of certain drugs. This can cause a massive disruption to profits and ultimately affect the dividend. A sudden change in tax rules or environmental regulations could have a very similar impact. Formerly public solar roof installer SolarCity, for example, had to shut operations in Nevada after local regulations made it difficult to keep going.  Being one of the largest markets for solar roofs, this had an immediate impact on the income statement. For a dividend-paying company, this could endanger the dividend.
Disruption
The silent killer of profits is actually disruption. Kodak was one of the largest companies on the planet and one of the biggest dividend payers in America. The advent of the digital camera and photography disrupted its market and caused a decades-long decline in profitability and market share. Dividends were on a downward trajectory ever since. Video rental store chain Blockbuster met a similar fate after streaming service Netflix redefined the nature of content consumption forever.  
Final Thoughts
Monthly dividend stocks and etfs can be ranked based on a simple metric – the dividend yield. How much dividend return you can expect for every dollar of investment is an essential metric. However, it doesn't tell you everything. Problems with the company's financial strength could be lurking beneath the surface.
Some high-yield dividend companies may not be as attractive as they first appear. The high yield could be the direct result of a sudden stock price decline or decades long stagnation. It could also signify market expectations for dimmed prospects or slower growth. Too much leverage, slowing growth, a high payout ratio, legal issues, regulatory issues, and a changing market, could all put the dividend in danger. This is a dividend or value trap.
Use our dividend health check up tool to identify issues with all the monthly dividend stocks and etfs in your portfolio.