There's no doubt diversification is important, but it's also a lot of work. In retirement, you probably have a lot more time to manage your assets, but creating a rock solid dividend portfolio is still labor-intensive. Screening all monthly dividend stocks, picking the ones you understand, making sure the dividend is safe, and adding them in specific portions to augment your portfolio can be tiring.
Luckily, mutual funds and ETFs make life a lot easier for retirees seeking income from their investments. These prepackaged funds offer the professional services of an experienced portfolio manager and the benefits of a well-diversified portfolio at the click of a button. This makes investing in all monthly dividend stocks as easy as picking out a tailored suit off the shelf. It's retail investment at its finest.
Over the past seventy years, the mutual fund industry has transformed beyond recognition.  Assets under management, of course, have grown immensely. This means mutual funds are much larger than they used to be which gives them economies of scale and bargaining power. The costs of running a fund has increased tremendously, but the expense ratios of most funds have been slashed due to competition. There are a lot more funds available now and a lot more that are released every year. Technology and better software has allowed fund managers to offer sophisticated services and pick out complex products. Funds are now more international, diverse, affordable, accessible, and sophisticated than ever before. All this has helped the industry serve investor needs more meticulously.
Which is why there is a wealth of options for a retiree seeking an income-oriented fund. Mutual funds that focus on generating income and minimizing risk are plenty. Here is a list of some of the best in this niche:  
[Yield: 2.1%]
Vanguard's 500 Index Fund is a fund that attempts to recreate the S&P 500 index. That means it is trying to a be a solid anchor for your portfolio by giving you exposure to the biggest and most popular index in the world. Every year, professional investors, mutual fund managers, and hedge fund managers fail to match returns from this index. So, if you can simply match these returns it's a win for most retirees. Over the years, this fund has returned an annualized 7%.  With a minimum investment of $3,000 you get access to the Investor Class Shares where the expense ratio is a reasonable 0.16%. However, if you invest more than $10,000, you get access to the Admiral Shares which are expensed at 0.05%. 0.05% if also the expense ratio if you simply skip the fund and buy the listed ETF – VOO.
Vanguard High Dividend Yield Index Fund (

VHDYX

)
Yield [3%]
Vanguard's other fund tries to focus on higher dividends.However, Vanguard's definition of 'high dividend' isn't really that high so you should temper your expectations. While the S&P 500 index fund offers a 2.1% yield, this one offers a 3% annual dividend yield. But, what the fund lacks in yield it makes up for in quality. VHDYX focuses exclusively on companies that offer a high yield and have a median market cap of $108 billion. That means this fund includes the largest and most well known 420 companies that offer investors dividends. That list now puts more cash into heavyweights such as Microsoft, Exxon Mobil, and Johnson & Johnson  by taking cash away from the non-dividend paying tech companies such as Facebook and Amazon.
Yield [4.8%]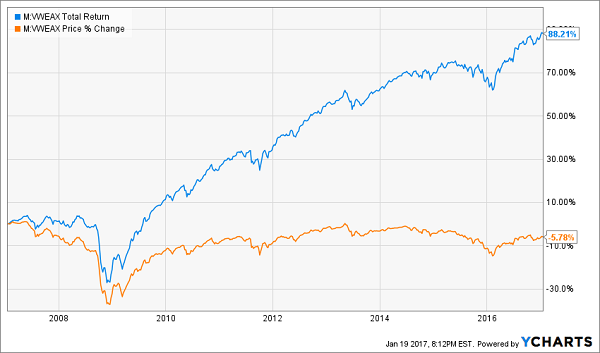 A gradual shift to bonds as you get older is recommended for most retirees. And if you're looking for a corporate debt portfolio, nothing quite beats this one managed by bond expert Michael L. Hong, CFA. Hong has managed the fund since the financial crisis of 2008 and has managed to deliver stellar results. VWEAX invests in junk bonds with medium to high risk, which helps it achieve a nearly 5% annual yield. Despite the professional management and excellent performance, bonds simply haven't done as well as stocks over the past decade. Which is why VWEAX hasn't performed nearly as well as the two funds we mentioned right before this. Nevertheless, at 6.5% CAGR this is a highly impressive fund in the bond world. The expense ratio is 0.23% for Investor and 0.13% for Admiral class shares.
Vanguard Wellesley Income Fund (VWINX, VWIAX)
Yield [2.9%]
John C. Keogh and W. Michael Reckmeyer, III, have advised this actively managed balanced fund since the end of the financial crisis. Both were the vice president, partner and fixed-income portfolio managers for Wellington Management. Now they advise the Wellesley Income Fund and have helped it generate 6.8% CAGR through a well balanced bond-equity fund. The fund is heavily tilted to bonds, with nearly 61% of assets under this allocation. The rest is invested in high yield dividend stars. What the team at Vanguard has done is combine a nice bond portfolio with the best of all monthly dividend stocks available to create the only portfolio any retiree will ever need. Expenses are 0.23% and 0.16% respectively for Investor and Admiral class shares.   
ALPS Sector Dividend Dogs ETF (

SDOG

)
Yield [3.41%]

At 3.41%, this a truly interesting all monthly dividend stocks fund. The way this fund creates its portfolio is truly impressive. It looks for the 10 highest-yielding stocks in the Dow Jones Industrial Average index. Based on that information, it gets the highest yielding stocks in the other most popular index in this country – the S&P 500. At the end the fund has 49 stocks that pay high dividends and are part of a diverse range of sectors. Diversification and high yield comes with a 0.4% expense ratio. The top holdings include Pfizer, Navient, Cummins, Baxter International, and Oneok. Since its launch in 2012, the fund has returned 15.7% annualized. That handily beats the 13.6% annualized return from the S&P 500 over the same period.
iShares Select Dividend Index (

DVY

)
Yield [3.2%]
This fund follows a wide index created by Dow Jones that covers nearly every stock traded in the United States. 95% of the market in covered, which means it contains all monthly dividend stocks besides the real estate investment funds. From this wide universe, the iShares fund picks only those that have sustained or increased their dividends over the past five years. Right now the fund's biggest holdings include Lockheed Martin, Philip Morris International, CME Group, and Chevron. The fund has outperformed the S&P 500 index by 1.6% per year over the past five years, while being 18.5% less volatile over the same period.
Schwab U.S. Dividend Equity ETF (

SCHD

)
Yield [2.84%]
While the 2.8% dividend yield may not be impressive, the 0.07% expense ratio certainly is. It's the cheapest all monthly dividend stocks mutual fund on this list. SCHD picks investments based on market cap and dividend history to make sure only dividend gems can make it through. A company needs to be worth at least $500 million and needs a 10-year long dividend history to be included in the fund's portfolio. To ensure no duds are included, the fund also narrows the list down based on return on equity, volume of shares traded (liquidity), and five-year dividend growth rate. Since it's launch in 2011, the fund has delivered an annualized return of 14%.
SPDR S&P Dividend (

SDY

)
Yield [2.4%]
If you're worried about downside risk, this is the perfect dividend to own. There's good reason to believe the market is heavily overvalued right now. The only way to minimize the downside when things get bad eventually is to focus on high-quality stocks from the universe of all monthly dividend stocks. SDY follows the S&P High Yield Dividend Index, which means it is poised for stocks that are uniquely positioned for growth and high yield. During the 2008 financial crisis and the 2011 market correction, this index lost much less than the S&P 500 index.
Final Thoughts
Each of the funds mentioned here offer dividends. But they're not all focused on high yield or relentless growth. Instead, these funds are focused on finding the most stable and high quality dividend payers from a universe of all monthly dividend stocks.  Some of the funds mentioned here invest heavily in corporate bonds or fixed income securities, while others are more focused on stocks with a high yield and great dividend history. But they all have three things in common that make them perfect for retirees – low expenses, high yield, and less volatility.