Who doesn't dream of financial independence? Having enough of money to never have to worry about money again is a common goal regardless of where you're from, what you do, or how old you are.
Unsurprisingly, gaining financial independence is difficult for most people. Most Americans would struggle to pay off a $500 emergency expense. A sudden shock like that would push nearly half the general population into debt. While the average net worth is close to $300,000, median net worth per household is merely $80,000. Dig deeper, and you'll discover that a large part of the median net worth comes from the family's equity in their residential property. In other words, most Americans are struggling to generate wealth at a reasonable pace.
If you consider the fact that interest rates are as low as 3% and the median income is $59,000 a year, you can see why most people struggle to create enough of savings to live off in retirement. Indeed, most Americans don't have enough saved up for their retirement.
Despite the grim figures and record-low interest rates, investors are finding other solutions to compound their wealth and secure their financial freedom. One way to bolster your retirement nest egg is to focus on living off dividends.
Investments You Can Live On
If you look closely, living off dividends increasingly seems like a clever idea. See, the whole point of making any investment is to get a return. Returns come in two forms – income or appreciation. Either you buy something at a certain price today and hope its price will increase in the future or you buy something and hope it pays you a certain percentage.
Traditionally, if you were living off something, you wanted it to be as stable and secure as possible. If I need $20,000 to live on every year and have $200,000 in the bank, I want to look for an investment that offers 10% every year. However, I am unwilling to accept volatility. Losing part of my wealth or experiencing a sudden cut in the interest rate is unacceptable.
Which is why most retirees invested in bonds and security deposits at the bank. The interest rate was high enough and you got your money back at the end of the term. This strategy worked for generations till it all came crashing down in 2008. Interest rates plunged to historic lows and now you can barely get a reasonable return on your money.
Common stocks, meanwhile, are far too volatile to live on. You can never be certain that a stock price will appreciate in-line with expectations. If you don't know what to expect, you can't plan your future expenses around it.
While stocks are volatile and bonds are unattractive, there is an elegant solution for people seeking financial freedom – dividend appreciation stocks.
Dividend Appreciation Stocks
Dividend appreciation stocks are investments in companies that are stable and reliable and have a long history of paying growing dividends. These stocks are an opportunity to get the best of both worlds. The stock price is less volatile and tends to head upward over time, while you get paid a consistent amount as you hold.
A company's primary purpose, after all, is to create profits. These profits are then either reinvested into the business, held on the books as cash for future investments, or paid back to shareholders. Under all three scenarios, the shareholder wins. If the company reinvests wisely or holds cash on the books, there is value added to the stock, which ultimately increases the market price of the stock. If cash is paid out, it's a dividend.
We've already discussed how companies are reluctant to cut or alter dividends. In most cases dividends are relatively sticky over the long-term. Some amazing companies increase their dividends for many decades. These get included in the Dividends Aristocrats Index.
The dividend rate is nothing to scoff at. While the S&P 500 offers a dividend yield of 2.7%, some well-known companies can offer a yield as high as 10%. Barbie doll and Hot Wheels maker Mattel, for example, pays a 7% dividend yield. Ford Motors and Verizon each pay 5%. These yields are amazing in a world where a 10 year US treasury bond yields 2.2%.
The Benefits of Dividend Stocks
Stocks that pay a dividend are designed for long-term, buy and hold type investors. Companies need to have a lot of stability and tons of free cash flow to be able to maintain a dividend.
Dividends are intrinsically linked to the company's ability to create profits. The higher the profits and headroom, the better the dividend's support. Over time, a well-managed company with bright prospects will keep adding value and offer substantially higher dividends.
As the stock price and dividends increase over time, it sustains your ability to live off dividends. The dividend yield can outpace inflation and interest rates under the right conditions. In fact, a study by PIMCO estimated that nearly one-third of the stock market's overall returns come from dividends alone.
The biggest benefit with dividends is their dynamism. Companies can shift strategies and anticipate market changes. They can pass on inflation to their consumers in the form of higher prices on their products. Blue chip multinationals earn money from many different countries in many different currencies. Most of them own a lot of real estate and high value properties that supplement their operations.
The Risks of Dividend Stocks
Nevertheless, dividend stocks aren't without their risks. A sudden shift in the economy can make a business model unprofitable. Too much of debt can jeopardize the operations. A change in management may also result in a different dividend strategy and payout ratio.
The risks run deeper than that. Interest rates can spike up suddenly, causing a crash in the stock market or a wave of junk bond defaults. The stock price could be punished, which would have a knock-on effect on your overall investment performance. Companies could suddenly cut or suspend the dividend to invest the cash elsewhere.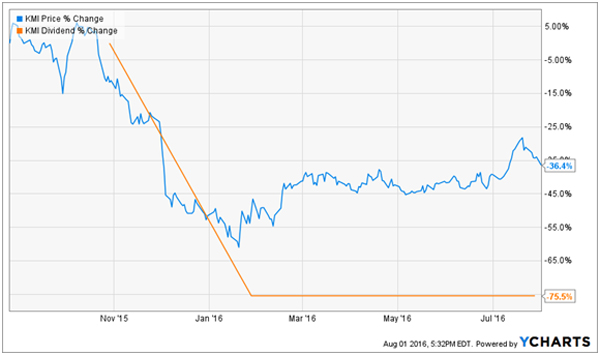 There are two ways to protect yourself against any investment risk – research and diversification. Research will help you pin down the stocks that have paid dividends for decades and are likely to keep doing so. Diversification will mitigate the risk and ensure your dividend portfolio creates enough of income in aggregate for you to live on.
That way, you hold a handful of high-conviction dividend stocks as part of a well-balanced portfolio.
ETFs & REITs
Another way to diversify and create a healthy dividend stocks portfolio is to invest in exchange traded funds (ETFs) or real estate investment trusts (REITs). We've discussed both these types of investments in detail, but here's a quick overview:
ETFs are a basket of stocks that follow a specific theme or index. They trade like regular stocks on the market and offer easy access to wide diversification.
REITs are similar instruments that are easy to invest in. These trusts hold and manage a portfolio of properties and real estate investments. The income (in the form of leases and rentals) are passed through to investors in a tax-efficient way.
Adding a few ETFs and REITs can help you diversify your portfolio. These instruments can help you augment the overall return and yield while mitigating risks.
Finding The Gems
Finding dividend stocks which are both high-quality and high-yielding is tricky, but doable. You need to focus on a few key elements to narrow the list and find the best stocks. Look for companies with good prospects for the future. Industries that have a good dynamics now and are likely to be around for a long time. Snacks and beverages, for example, cannot be disrupted by sudden improvements in technology. Companies in stable industries offer long-term visibility.
Next, study the company's financial reports closely to see if the dividends are sustainable. Look for low debt and high profit margins. Understand the management's behavior and attitude towards shareholders. Check for some headroom between the dividend payout and the free cash flow generated per share.
Finally, run a dividend discount model to find out if you can buy a high-quality dividend stock for less than it is worth.
Final Thoughts
Dividend stocks are a balanced and elegant solution to a common problem. Most savers and investors in this country are looking for a stable and reasonable return on their cash. While safe and secure fixed income securities offer historically low rates, investors are unwilling to risk the volatility of high-tech growth stocks.
The only option is a mature company that pays regular and growing dividends. Over the past century, dividends have contributed a significant amount to the stock market's overall return. The fact that dividends are linked to corporate profits helps them keep up with a changing economy and rising inflation.
There are risks to dividend investing, but if you do your research and diversify appropriately, you can create a healthy and balanced dividend portfolio. This portfolio will help you create a monthly stream of income you can live on forever.