Harvard Business School grads will be quick to quote Peter Drucker in his approach to management. Drucker once said what gets measured gets managed. In other words, you can start to manage anything better the minute you start examining closely to measure it in depth.
By measuring, you finds what needs improvement and work on it right away. It seems this is the key to managing just about anything. A focus on data and constant improvement can help you manage your dividend portfolio like a professional.
The Essentials
Dividend investing isn't really a complicated concept. We've talked about it at length here and by now you might have a rough idea of what a great dividend portfolio looks like. In fact, you might even have a substantial portion of your net worth invested in income-generating stocks.
But even the simplest strategy can get overwhelmingly complicated if you're not paying attention. There could be hundreds of stocks and ETFs in your portfolio, each of which have their earnings reports and press releases at different times of the year. The dividend yield in each security could change over time, and that could have a knock-on effect on your overall portfolio yield. Subtle changes over time could transform the portfolio without you realizing it.
But that's not to say you should micro-manage your dividend portfolio. Instead, apply the 80/20 rule and focus on the essentials. 20% of your efforts will actually yield 80% of all the benefits. Pick out data that's important and work to improve those stats over time.
In terms of portfolio management, you want to focus on key details about growth, income, volatility, and diversification. You need to ensure you're making enough of income from your portfolio, growing steadily and diversified enough to withstand short-term fluctuations.
Let's see how you can measure and manage these factors individually.
Income
If you've created a dividend portfolio you're probably looking to generate income. The purpose is to invest a certain sum of money and earn as much as you can from those assets. Which means it's essential that you start by measuring the income generated from your investments.
You can start by setting a goal for income. Check the dividend yield of the S&P 500 to see how much you can expect from a portfolio of dividend paying stocks. For example, the dividend yield right now is nearly 2%. In comparison, the yield on a 10-year U.S. Treasury bond is nearly 2.45%. So, if you're going to take the effort to create a dividend portfolio, you need to be able to generate a yield higher than an index or treasury bond to make it worthwhile.
To find out the dividend yield on your portfolio start by calculating how much income you can expect over the next twelve months. All the stocks you hold would have announced a dividend payment schedule for the year. You simply put the figures together and estimate how much income you'll earn in dividends throughout the year. Divide this figure by the current market value of your portfolio and you have the dividend yield your portfolio will generate.
It helps to keep an eye on this figure on a monthly basis. Most stocks will pay a dividend every quarter, but if you've seen our guide on creating a monthly income stream from dividends you can expect some payment every month. Pay attention to the stocks that pay the most in dividends and understand how changes in the economy affect your portfolio and income.
Growth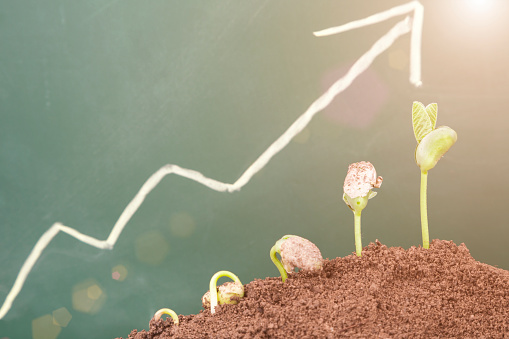 A high yield is great, but you also need income growth if you're a long-term investor. Over time inflation will probably chew into the value of your earnings so you need investments that outpace this 'invisible tax' on your wealth.
If you're trying to figure out how much your dividends have grown over the years, look back over the past five or ten years and analyse the Compound Annual Growth Rate or CAGR. This will tell you how much the dividends have been compounding over time. You can compare this rate to the rate of inflation over the same period to see if your income-generating power has been retained.
Looking back over the past few years will also let you estimate how much your income will grow in the future. It's reasonable to assume that you can maintain the growth rate from the past decade over the next decade.
Safety
Once you've figured out how much income your portfolio generate and how quickly it will grow, you need to check to see how safe your investments are. This is, arguably, the most important factor of your portfolio.
Companies cut dividends when they fall on hard times and this can have an unpleasant effect on your overall income portfolio.
So, to figure out how safe your dividends are you need to start digging up annual reports from all the stocks you hold and examining them for cracks. You want to see their dividend history, the payout ratio, the level of debt, and the headroom.
Ideally, the stock you hold must have a long history of consistent dividend payment. If the company has diligently paid a dividend for multiple years and never considered cutting it, you can trust that the trend will continue. Companies that have managed to keep debt low and profits high for the past few years, there's a good chance they'll have the financial strength to keep paying investors. A sudden drop in profits or revenues will not have a magnified impact on the dividend program if the payout ratio is too low. Finally you need to check for headroom – the amount by which free cash flows exceed the dividends paid. If the free cash flows every year exceed the dividends paid by a wide margin you can safely assume the dividends have a cushion to protect from sudden losses.
Diversification
You can never be too safe when it comes to investing. Conservative and pragmatic investors understand that business is unpredictable. Volatility cannot be avoided but you can diversify to protect against the risks.
How much diversification you'll need depends on your appetite for risk. If you don't mind seeing massive fluctuations in your portfolio and prefer concentrated positions in a few companies you can limit your holdings to less than 20. Holding less than 10 stocks is considered too risky. Meanwhile, holding more than 100 would be overkill and will actually offer diminishing returns.
It's also important to realize that diversification isn't simply about the number of stocks you hold. It's actually about the different sectors your wealth is exposed to. If, for example, you hold 100 stocks in the banking sector you have no diversification at all. As a rule of thumb try to limit your holdings to less than 25% in each sector. That means you can divide your portfolio into four or five different sectors with multiple stocks in each of them.
Also ensure that no stock accounts for more than 10% of your income. That means you need to spread out the holdings so that the income you generate comes from a wide variety of holdings.
Conclusion
Creating a rock solid dividend portfolio is simple, but you need to keep a close eye on it and keep making improvements to your strategy. Measurement is the basis of all management. If you want to start managing a portfolio like a professional investor start by collecting essential data.
There are four key aspects of your dividend income portfolio that you need to keep a close eye on – income, growth, safety, and diversification. Set benchmarks for each of these aspects and measure your portfolio regularly. If you find issues solve them quickly.
Consistent measurement and proper management will help your grow your dividend portfolio over the long term.