This blog is about dividends stocks. We've spent considerable time talking about dividends, profits, corporate structures, and payout ratios. All this in an attempt to help you create a portfolio that guarantees financial freedom.
Our preferred method of achieving financial freedom has always involved creating a stable and lucrative dividend portfolio.
However, we rarely mention some of the fundamental basics of creating an income earning portfolio. That changes today, as we take a closer look at a discount brokerage platform we think you should try – Ally Invest.
About Ally Invest
Most readers of this blog would be completely unaware of Ally Invest. That's because it's a relatively new name for a relatively old company with a redesigned trading platform.
The platform was better known as TradeKing, one of the leaders in the online discount brokerage industry. TradeKing was a well known online stock trading platform that operated for nearly ten years. In 2016, Ally Financial Co. paid $275 million to acquire the company and relaunch it under their new brand.
One of the reasons people still haven't heard of the brand is the lack of marketing campaigns and TV ads. The company is well known within investor circles, but not really recognized by the anyone else. That doesn't mean it's a bad option for traders and investors. Instead, the platform offers great pricing and some interesting features.
Features of Ally Invest
Perhaps the best thing about Ally Invest is its pricing. Trades cost a flat $4.95, with additional discounts available depending on trade volume. Option trades cost a similar $4.95 with an extra 65 cents per contract. Compare that to E*trade's $9.99 per trade and you can see why Ally offers a better deal. In fact, this pricing structure is currently the most affordable in the industry.
Most of Ally's promotional material is focused on this competitive pricing. However, low pricing doesn't mean the team has compromised on the platform or its built-in features. The platform retains TradeKing's live and responsive trading dashboard and all the helpful educational resources.
Unlike other brokers, Ally Invest also doesn't charge a fee to inactive accounts. Instead, active traders and regular investors get incentivised with better trading fees and fee educational resources on various securities.
Altogether, Ally is a great option for relatively active investors seeking a bargain. The platform is designed to help active traders in options and Forex squeeze the most out of their trading strategies by keeping prices as low as possible. It's also a good option for buy and hold investors who can buy dividend paying stocks for a flat fee and keep them in the account without fearing an inactivity fee.
More Features

The web platform is a delight. Prices update in real time and it is really easy placing a trade and getting the information you need on any company. There is also a downloadable software package designed for day traders and Forex traders who need more complex tools. The software package only works on Microsoft Windows, so sorry Mac users.
Lastly, the customer service is fantastic. Just like TradeKing, Ally Invest can take customer queries via phone, email, or online chat. Phone is the weakest link, with most calls taking nearly a minute to be connected. But once connected, you get the impression you are speaking to someone who knows what they're talking about and can guide you well. Email and live chat are much better options if you're looking for more details and need quicker responses by experts. Altogether, the customer service team is top notch, but it could be better.
Drawbacks
Let's start with the fine print. Ally Invest doesn't charge an inactivity fee, but it will charge you $50 if your account minimum falls below $2,500 and you haven't placed a single order within the past twelve months. Making a single trade each year is an easy target for almost any investor, so this isn't much of a concern.
What is concerning, however, is the fact that Ally doesn't offer commission-free ETF trading. Even though the flat fee is relatively low, fees can make or break a strategy based on accumulating ETFs over a long period of time. Similarly, mutual funds also attract a transaction fee. Ally Invest offers nearly 16,000 different mutual funds on its platform but the firm's commission on these no-load funds is a flat $9.995. Rivals such as E-Trade, Merrill Edge or Interactive Brokers offer these transactions for free.
Finally, Ally Invest works off of TradeKing's online platform and the reason the commissions and fees are so low is because the company keeps overhead costs suppressed by eschewing physical locations. The website is a bit clunky right now since it is being rolled out, but once the website is fully operational it will be the only point of contact for all investors. This may suit millennials and tech-savvy traders better, but it isn't ideal for investors who need to walk into a physical branch for hands-on support from an adviser.
Comparison
When compared to the competition, All Invest shines bright. The platform is user friendly and comparatively cheaper. Nevertheless, for certain investment styles this trading platform doesn't offer what others can. It's a great platform for day-traders, forex strategists, and those who want to buy and hold stocks for the long haul.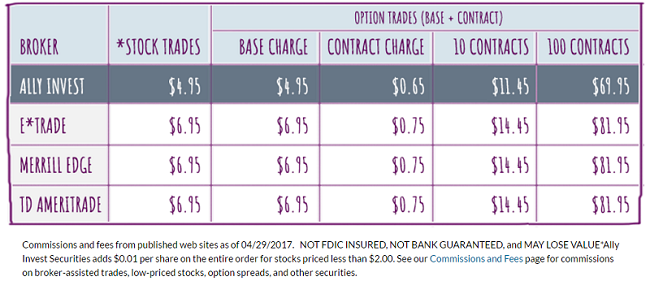 It's not so great if your investment strategy relies on ETFs or mutual funds. This is also not a good option if you need assistance with complicated day trades and options strategies. While the customer service team is pretty good, the platform is designed for self-starters and people who are comfortable doing these trades on their own. There's no physical branches so you can't really walk into an office and ask someone to show you how certain trades work.
The best feature is probably the pricing. Ally Invest has established itself as the lowest cost broker online. Compare their $4.95 per trade to Scottrade's $7 flat fee and $2,500 account minimum and you can clearly see the difference. Other brokers such as E*trade, Merrill Edge, and TD Ameritrade are no better, with fees ranging from $6.95 to $9.99, with various minimum account deposits.
The only comparable service is Optionshouse, which also charges $4.95 per trade and doesn't have any account minimums. Of course, Optionshouse is a much smaller company and their web platform doesn't quite compare to Ally Invest or any other big online discount broker.
Final thoughts
Ally Invest may be an unknown name to most readers of this blog, but it's an online broker with some seriously good features offered at an attractive price. The company has been around since 2004 but it recently acquired TradeKing which propelled it into the big league. Now, Ally Invest is one of the top dogs in this market.
What Ally has managed to do is invest heavily in a great online platform. The live rates and easy trades make using this platform a breeze. It's super easy to sign up and get your account up and running. The customer service team is phenomenal. Men and women from their customer services department can guide you through your trades whenever you need. All you have to do is make a single trade every year minimum and pay $4.95 per trade in fees. The brilliant web platform and online resources can guide you through day trading, long-term dividend investing, and forex strategies.
On the other hand, this isn't the best platform for ETFs and mutual funds. That's because of the fees charged on these transactions which other online brokers don't bother with. If there's any downside to Ally Invest, that's it.
We appreciate a good stock trading platform. Picking the right one is important if you're trying to buy valuable stocks at discount and applying compound interest to your wealth. The lower the fees the better for almost all investors, regardless of style. However, you don't want to compromise on the design and features of the platform when signing up with a discount broker. Due to its size and resources, Ally Invest, in our opinion, offers the best of both worlds.  
Compared to all the other brokers in this sector, Ally Invest stands apart and we rate the service 8/10.