Income seeking investors understand the need for assets that generate value and grow over time. Through the power of compounding, financial securities can take what they have and create substantial wealth for investors over time.
Most investors fall into one of two groups – the risk-averse income-seeking group and the risk-taking, capital appreciation oriented one.
Bonds tend to be the best option for the first group and stocks are usually great for the latter. Bonds promise a fixed income on a fixed schedule till a predetermined maturity. Stocks, meanwhile, last forever, don't have to pay out part of their income, and have the potential for significant capital appreciation.
Both securities have their flaws. Bonds might be safe and stable, but their returns struggle to keep up with inflation. At the moment, interest rates on common bonds are at records lows, which makes it much harder for investors to live off them. Stocks, on the other hand, aren't for the faint of heart. A sudden change in the economy or an unexpected corporate crisis like a lawsuit or regulatory change can have a drastic impact on the underlying company's prospects. Stocks are subject to immense volatility and not everyone is okay with that. Valuation and accurate predictability are remarkably difficult for common stocks.  
Fortunately, there's a solution for investors seeking the best of both worlds – Real Estate.
What Makes Real Estate Such A Great Investment?
Real estate is a great investment with characteristics of both stocks and bonds. Like bonds, a property can generate a stable and fixed income over the course of its life. The income usually comes from the rents collected on the property. Meanwhile, the lack of space in certain cities, growing population, expanding incomes, and migration can drive the price of property upward.
A real estate investor usually expects to collect a regular (generally monthly) paycheck on the property and expects to sell the property for considerable more than what the price it was bought at. Property prices in the best locations can outpace inflation and also outpace the gains in some other securities. Rental yields are generally better than the yield on corporate bonds and government treasuries.
Add the fact that mortgage rates are at record lows and you can see why real estate investors expect a handsome return on their sizable investment.
Real estate is a relatively simple and often lucrative investment, but it isn't without its problems. Houses and commercial property are usually rather expensive, which means most people can't afford to buy a single property outright. This implies the need for leverage, which adds to the risk involved and could undermine the yield expected from rents.
Property is also difficult to diversify. A single family home in San Francisco could cost nearly $1 million. At that rate an investor can expect to leave a significant portion of her overall portfolio exposed to a single investment.
Property is also remarkably illiquid. Selling a house and finding a buyer could take weeks and sometimes months. According to Realtor.com, the median house could take nearly 65 days to sell. The brokerage fees and local taxes chew into the profits from selling and in most countries you must pay a high rate of tax on the capital gains from such a sale.
All these factors make real estate less appealing than it first appears. However, there's a solution for these issues as well.  
What is A REIT?
A real estate investment trust or REIT is a trust that buys, maintains, and manages property on behalf of shareholders.
REITs got their start in the 1960's. The REIT was part of President Eisenhower's Cigar Excise Tax Extension of 1960. Congress intended to make prime, income generating, diversified real estate portfolios more accessible to common shareholders. These REITs were designed to hold multiple properties, often in different cities and states. The trust is managed by professionals who know how to handle leasing contracts, maintenance schedules, and regulatory approvals.
These REIT trade like regular stocks on the stock exchange. Rental and leasing income is shielded from corporate taxes because REITs are compelled to pay most of the income back to investors in the form of dividends. These dividends get taxed at the individual tax level, depending on the investor's tax bracket.
Over the past half century REITs have had a tremendous impact on the average American's life. Nearly 70 million people have invested in REITs and gained exposure to America's booming residential and commercial property market. The added liquidity and capital have unlocked value in the country's land and enabled the development of some prized infrastructure over the decades.
Reports suggest REITs have helped create more than 1.8 million jobs and have generated over $107.5 million in income for workers in the construction industry.
Meanwhile, REITs have created substantial wealth for investors over the same period. SOme estimates suggest the average annual return on REITs has been around 10% over a 5, 10, and 30 year period.  REITs have outperformed diversified mutual funds. Meanwhile the S&P 500 has returned nearly 9.6% compounded annually since 1987 with dividends reinvested.
REITs are great long-term and stable bets for income-seeking investors.  
Types of REITs
Similar to most ETFs and Mutual Funds, REITs come in a variety of flavors. Here are some of the different types of REITs available to common investors:
Retail REITs: Perhaps the most common form of REITs are ones that invest in retail property. Malls, stores, and boutiques all come under this type of REIT, which makes up 25% of all REITs in the US today.
Residential REITs: The second most common form of REIT owns residential property. Single and multi-family apartments usually do well when they're in large metropolitan cities with attractive job opportunities and limited apartment supply.
Office REITs: Commercial properties like offices, warehouses, and co-location data centers are next on the list. These commercial properties usually have higher yields and longer-term contracts that keep up with inflation.
Healthcare REITs: REITs that buyout hospitals, retirement homes, and medical centers. As the American population ages these REIT are expected to offer better returns.
Mortgage REITs (MREITs): 10% of all REITs don't invest in the equity portion of properties. Instead they buy and hold mortgages to collect the interest payments. MREITs are an interesting asset class with unique characteristics.
We'll take a closer look at each type of REIT in another article later.
Understanding REIT Taxes
If you're going to invest in REITs, it helps to fully understand REIT taxation. Usually cash paid out from operations is treated as a common dividend and taxed as a non-qualified dividend. This means the tax rate is the investor's marginal tax rate.
Sometimes, the REIT will pay out some of the operating profit that was shielded from taxes due to the depreciation of the real estate assets. This form of dividend will reduce the tax liability of the dividend and also lower the cost basis of your investment. However, since the cost basis has been lowered, capital gains taxes could be higher when you eventually sell the investment.
Capital gains will also apply when the REIt sells a particular property from its portfolio and realizes a profit.
REIT taxation is a broad and complex subject. Fortunately, the trust makes it easier to work around REIT taxation and provides investors with detailed forms 1099-DIV and 8937 for their tax returns each year.
The Best REITs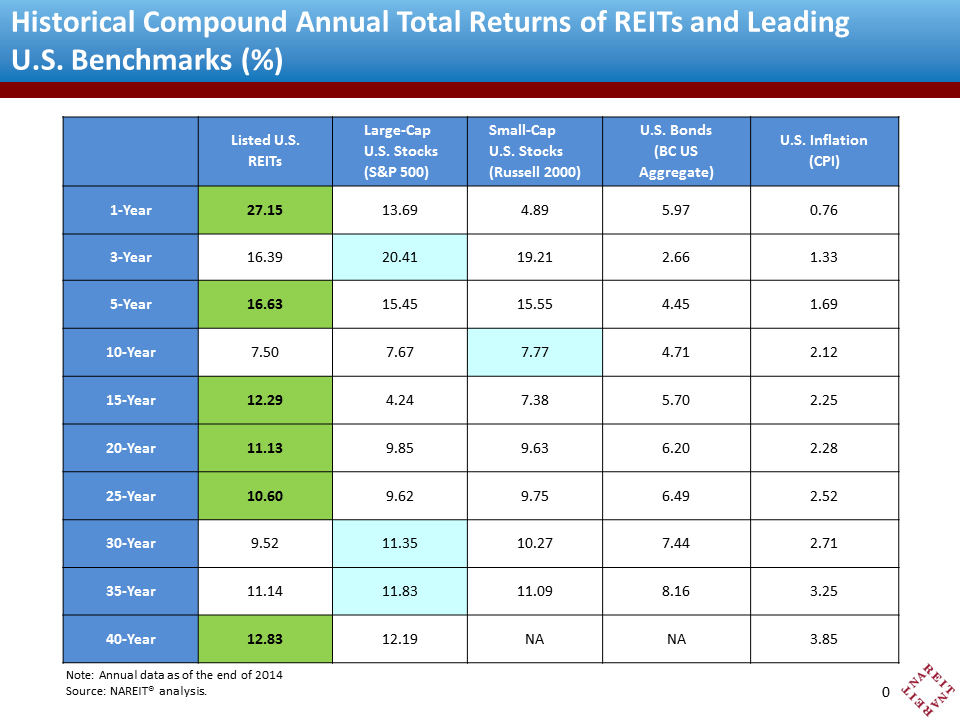 Profitability, predictability, and sustainability often define good investments. This is also the case with REITs. Beside the complexities of REIT taxation, most of these instruments are pretty easy to understand and invests in.
A good way to figure out the value of a REIT is to look at the market value of all the properties in the portfolio and divide it by the number of shares. This is known as the net asset value per share. Also, look at the Funds From Operations and the ratio of dividends to FFO to judge the REIT's profitability. Also, keep an eye on the tenant agreements and vacancy rate to judge efficiency.
The best REITs pay out a handsome dividend yield, have properties in excellent locations, compound wealth at an accelerated clip, and have brilliant managers to make it all work.  
Final Thoughts
Real estate investments are an excellent option for most investors. The earnings are stable and there's potential for genuine capital appreciation over time. However, most investors simply lack the fund or the expertise to pull off real estate investments professionally and maximize their profits. REITs are an effective solution for this issue.
REITs are professionally managed trusts that own, manage, and develop real estate assets on behalf of public shareholders. These REITs trade on the stock exchange like regular stocks. They pay out most of their income in the form of dividends, which makes these particularly attractive to income-seeking investors.
If you can get your head around the complexities of REIT taxation and valuation, these financial instruments are a great option for your dividend portfolio.